Return
Castle of Vicfred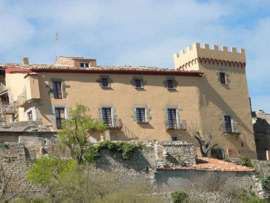 ref:926
The Segarra watchtower
Location:
Lleida - Vicfred
Contact
Print gift

Arrogant defensive fortress, which was later transformed into a distinguished and beautiful mansion, sentinel plan around it.
Castle Vicfred surrounded by homes built in the old wall, is a vantage point overlooking the days sun. Equally captivating is its interior, where there are traces of all those who lived. Accentuated in the complex: The master bedroom, music room, the kitchen, the dining room, the chapel, the prison and the dungeon.
GUIDED TOURS:
The castle is documented in 1079, a probate certificate issued by Mir before pilgrimage to Santiago de Compostela. After belonging to this family, and various historical periods, are passed to the lineage of the Ribelles and finally the castle came into the hands of Cardona to relate with the house of Medina, which they held until the end of the feudal regime (mid nineteenth century). Today, the castle belongs to the family Boix-Rodríguez.
Vicfred was, for its perfect location, an important town. It marked the boundary between the County and the County of Urgell and Cardona was always a good position to monitor the progress of the enemy. The view from the castle reaches Mequinença clear days. Rooms are outstanding castle cellar, where they still perceived the aroma of wine, dungeons, torture who knew drip and stable, previously used as a guard room.
For curious visitors: secret passage hidden behind a small door, about 2 km long, making running water in the house, the dungeon...
Prices:
The prices include guide service.
Individuals:
- Adults: 6,5 €
- Individuals Children: 3,25 € (8 to 14 years inclusive)
- Children from 0 to 7 years: Free
Groups:
- Up to 10 people: 65 € / group
- 10 to 20 people: 4,80 € / person
- From 21 to 30 people: 3,60 € / person
- More than 30 people: 3,00 € / person
Consult special conditions for travel agencies.

Individuals without previous reservation: Every first Sunday of the month: 11h, 12h and 13h
Groups every day of the week by appointment, tel. 973 40 20 45.
By car: From Guissona and Cervera Vicfred communicated to the LV-3003.
Train Station nearest Cervera (19 km).
By bus: Regular Line up Guissona (6 km).