Return
Vicfred Castle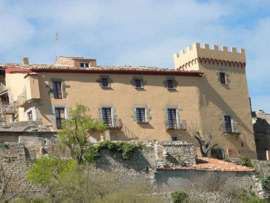 ref:926
The Segarra watchtower
Location:
Lleida - Vicfred
Contact
Print gift

Haughty defensive fortress finally transformed in a distinguished and seigniorial residence, appearing as the sentinel of the plain that surrounds it.
From the Vicfred castle, surrounded by the residences built inside the ancient rampart, the view is fantastic on sunny days. Inside the castle we are equally captivated by the traces of all the people who lived inside.
In the castle, the following rooms are particularly relevant: The main bedroom, the music chamber, the kitchens, the oratory, the prison and the dungeon.
GUIDED VISITS:
The first document relative to the castle was written in 1079, when Mir bequeaths the castle through a testament before going on Pilgrimage to Santiago of Compostela. The castle passed to the lineage of the Ribelles and finally the Cardona became the owners, by marrying into the Medinacelli family, who conserved it until the end of the seigniorial regime (middle XIX). Nowadays, the castle belongs to the Boix-Rodríguez family.
Vicfred was an important village settlement due to its strategic geographical situation. It represented the limit between the Urgell and the Cardona earldoms, and was strategically well situated to watch over the enemy attacks, the all embracing view enabled to see until Mequinenza on bright days.
Among the castle rooms is the wine cellar, which still conserves the good wine's fragrance, the prison where the water dripping torture took place and the stable, formerly used as a guard room.
For curious visitors: a secret passage, 2 km long, is hidden behind a small door, the running water inlet, the dungeons…
Prices:
Prices include the guided tour
Particulars:
Adults: 4,50 €
Particulars children: 2,25 € (from 8 to 14 years old included)
Children from 0 to 7 years old: Free entrance
Groups:
More than 30 people: 2,40 €/person
From 15 to 30 people: 72,12 €/group
Up to 14 people: 70,00 €/group
Up to 12 people: 60,00 €/group
Up to 10 people: 50,00 €/group
Up to 8 people: 40,00 €/group
Please see special conditions for travel agencies.
By car: From Guissona and Cervera follow the LV-3003 road.
By train : Nearest train station Cervera (19 km).
By bus: Regular line until Guissona (6 km).