Return
Castle of Florejacs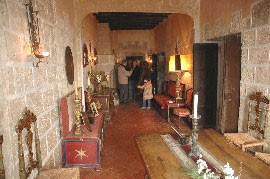 ref:918
Guardian of the walled town
Contact
Print gift

The magnificent medieval castle built by the building and houses that follow the route of the ancient wall of the town of Florejacs, lead us to a bath of peace between the beautiful countryside around them.
Castle Florejacs retains the old square towers monitoring the wall, along with the rest of the fortification, located in a dominant, offers a fascinating insight into the grounds and surrounding villages. Entrance doors reveal part of the beauty that can be seen inside the enclosure and its good state of preservation: Cardinal Room, Room Sanllehí, along with all the belongings left in heritage, the show long the armory and could not miss the cellar prison, the secret passage ...
GUIDED TOURS:
The first documented evidence of the castle date S.XI. The medieval castle was built by Arnau Mir de Tost on an ancient fortress. The castle has always been in the hands of the same family, is currently owned by the family-Jaumandreu Balanzó.
The castle consists of a manor house S.XVI attached to the old walls of the village with beautiful medieval tower. Its interior is, by its decoration and furniture, a real museum three levels: the ground floor, where we find the stables, the cellar, the jail and other rooms; the first floor with a living room, a beautiful bedroom and dining room; and upstairs, with several rooms.
For curious visitors: The living collections with a rosary interesting objects from different periods; access to the secret passage and the collection of weapons.
Prices:
The prices include guide service.
Individuals:
- Adults: 6.5 euros
- Individuals children: 3.25 euros (8 to 14 years inclusive)
- Children from 0 to 7 years: Free
Groups:
- Up to 10 people: 65 € / group
- 10 to 20 people: 4,80 € / person
- From 21 to 30 people: 3,60 € / person
- More than 30 people: 3,00 € / person
Consult special conditions for travel agencies.

Individuals without previous reservation : Sundays: 11h, 12h and 13h
Groups every day of the week by appointment, tel. 973 40 20 45.
By car: From Guissona Florejacs to reach the L-311. By train: Nearest stations Cervera (22 km) and Tárrega (33 km). By bus: Regular Line up Guissona (8 km).