Return
Combined visit to CIC Fassina Cava Interpretation Centre & Codorníu Winery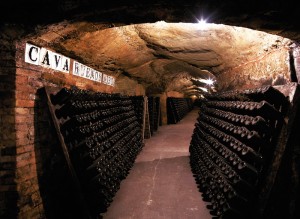 ref:7401
1-50

Type
Visit, Tasting and Wine and cava
Location
Tarragona - Sant Sadurní d'Anoia
Prices
from 12,0€
Print gift
This combined tour to the Cava Interpretation Centre and the Codorníu Winery at a reduced price gives you the opportunity to make a cultural and historical journey to the origins of Cava
Housed in a former distillery that produced wine-based spirits built in 1814, the Cava Interpretation Centre invites you to discover the origins of Catalonia's sparkling wine, Cava, the history of its vineyards and hard work, its architecture, the people at the centre of the wine industry and the spirit of celebration that have made Sant Sadurní d'Anoia the capital of cava.

Complete your experience with a stimulating tour into the Codorníu Winery. Codorníu is synonymous to the history of a family of winegrowers which dates back to the XVI century. It is the oldest family company in Spain and one of the oldest in the world. Manuel Raventós hired in 1895 the Modernist architect Josep Puig i Cadafalch (Gaudi's coeval) to enlarge the winery. The building built represents the fruitful alliance between nature and human labour, but at the same time it also constitutes a stone tribute to the silence of cava. Declared National Historical-Artistic Heritage in 1976, it's also one of the most incredible examples of the architecture dedicated to the elaboration and aging of cavas. For over a century, Codorníu has always done its second fermentation and aging in an underground cellars labyrinth at just the right temperature. In 1872, Josep Raventós Fatjó made cava for the first time in Spain following the "méthode traditionelle" and using autochthonous grapes. Establishing, this way, a completely new industry in the region and linking the Codorníu brand to the cava history.

The oack includes:
. Tour into the different spaces of the old Fassina de can Guineu building, today the Cava Interpretation Centre. Interaction with touch tables, an augmented reality game of the phylloxera insect, a 3D projection and large format audiovisuals on the world cava. Tasting of cava.

. Welcome to Codorníu in the Sala Puig Hall "the Cathedral of Cava". A 3D audiovisual. Art Nouveau train ride around the Codorníu winery gardens. Admission to the "Celler Gran" Museum and the cava cellars. Exhibit of traditional grape presses and fermentation machinery. Table of Aromas. Descent into the underground cellars: the first Codorníu cava. Exhibit of traditional cava making machinery. Train ride around the cavas. Codorníu products' presence throughout history. Tasting of 2 cavas from Codorníu's premium range (must for visitors under 18). Cava Shop.
Opening times: From Tuesday to Sunday.
Conditions: Limited places available for this activity. Please check availability and visit languages. Special rates for children
Duration: 21/2


You may also be interested: