Return
CALAFELL - The last stage - 11 MARCH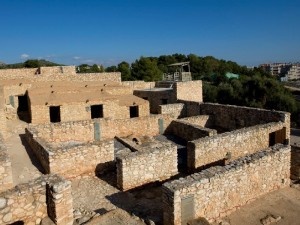 ref:7275
2-2



Location
Tarragona Baix Penedès - Calafell
Prices
from 84,5€

History and cuisine, come to Calafell and enjoy a weekend of intense activities!
The tourist offer includes:
- Stay in double room with bath in 3 * hotel - 4 * (subject to availability)
- Breakfast at hotel
- Lunch at a restaurant in town
- Visit to the Iberian Citadel, an archaeological site that was inhabited by a tribe of Iberian and probably was destroyed with the arrival of the Romans. Also known as the
Citadel of the Toixoneres
.
- Visit to the House fighting, turned into museum-house architectural testimony of the maritime past of the town and home of Carlos Barral; versatile figure rooted in Calafell from his childhood
- Basic insurance
Possibility of assistance and cancellation insurance - 6 € / person
Take a morta, season to taste and mash were one by one, and in this order, almonds, hazelnuts and garlic, until a very fine paste. Then add pepper romesco sauce, fried bread, paprika and white pepper. Finally, tomatoes, oil and vinegar. Once the sauce is mixed with endive well washed and drained. Let stand a few hours.
When serving the dish is decorated with cod, tuna, anchovy fillets and olives. And you can eat, always accompanied by tortillas artichokes, beans or black sausage, among others.
Includes:
Accommodation, Breakfast and Diner
THE ROUTE XATÓ is a great adventure we offer you to enjoy the Alt Penedès, Baix Penedès and Garraf. A gastronomic adventure, closely linked to the Penedès wine and a dish unique in the world, the tasty xató native to our land. Come and make a tasting!
But Xató route is an experience that goes far beyond good food and good drink.
Includes more than 200 proposals for leisure, culture, nature, beach, wine, entertainment...festivals, museums, hiking, tastings, competitions, popular xatonades, themed trips and other activities that allow you to enjoy with your partner, family or friends.
The best restaurants of the region offer their culinary talent. And this year, to finish dressing so, Xató released the cover, a new route gastronomic restaurants and bars, which enables you to enjoy all the creativity xató shaped lid.
Come to Calafell, Vendrell, Sitges, Vilafranca del Penedès and Vilanova i la Geltrú and begins to live the experience of the Route of Xató!
You may also be interested: