Return
Tour and tasting of three wines Winery Cérvoles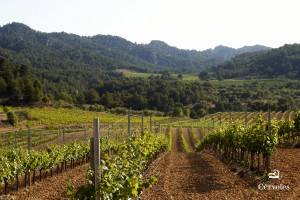 ref:7256
1-25

Type
Visit and Wine and cava
Location
Lleida Garrigues - La Pobla de Cérvoles
Prices
from 10,0€
Print gift
The imposing presence of feral natural surroundings, make the soil Cérvoles winery is unique and exceptional.
Guided tour of the winery facilities: drawing room, aging room, storage room. Fruit of the characteristics of the vineyards and the area in which they are based, Cérvoles Winery wines are obtained with optimal balance between alcohol and acidity, intense color and a pronounced and common personality. This, together with the extreme attention to detail in each and every stage of the process, the result of a firm commitment to teamwork, have given Cérvoles Winery constant and regular recognition of experts and the obtaining numerous prestigious international awards.
- Duration: 1 hour approximately.
- Languages: Catalan, Spanish and English.
-Price: € 10 per person (children under 16 years free).
It is this uniqueness, allows us to practice agroecology . This system is based on the use of ecological principles that favor natural processes and biological interactions in order to optimize and conserve agricultural land in a constant process of recycling nutrients, ensuring excellent practice Excellent sustainable agriculture.
The wine cellar has Cérvoles high technology and was designed as fully taking into account the size of the various plots, so that in each tank fermented grape variety and a specific plot. It should be noted the particular vintage charging system at the bottom of the tanks, more respectful of the fruit and prevents early skin lacerations.
The park is one of the biggest barrels care centers. Great efforts have been aimed at achieving the coopers appropriate, given kind of slow growing oak and toasted special. With this, we come to conclusions which are the woods that give us the nuances and characters aim for a good balance and a suitable complexity of the wines and, ultimately, we can achieve the characteristic bouquet of wines Cérvoles.
You may also be interested: