Return
DISCOVER SANT PAU D'ORDAL WITH BIKE!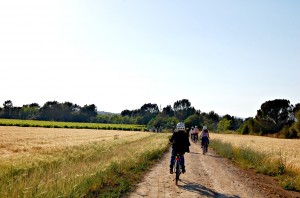 ref:7155
2-20

Type
Guided route and Bicycling
Location
- Sant Pau d'Ordal (Subirats)
Prices
from 56,3€
Print gift
To enjoy the natural environment and breathe and Sant Pau d'Ordal and a couple of their cellars
The activity begins to Lavern-Subirats Station where we take the bike started our walk around wine Subirats.
Then visit a first winery specializes in wine, Penedès pioneers in agriculture and production of organic wines.
After another winery on the visit, know their vineyards, through the process of drawing up a bottling and finished with two tastings.
Cycling through vineyards before returning to the station Lavern-Subirats.
Lunch in a restaurant in Sant Pau d'Ordal; and s is a menu to choose first, second, and includes dessert wine Albet i Noya Lignum. Cal Saldoni is characterized by its product philosophy km. 0 and slow food, so you can always find seasonal proposals. in this case it must be booked separately.
After the lunch terminating the activity.
Duration: 7 hours Period: all year



You may also be interested: