Return
MONTSONIS MEDIEVAL RESORT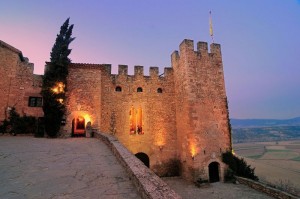 ref:5632
2-4






Type
Apartment, Room and Rural house
Location
Lleida Noguera - Montsonís
Prices
from 35,0€

Discover us
Montsonís Medieval Resort Noguera region, in Lleida, is chaired by a magnificent medieval castle and surrounded by stone houses that are part of the ancient wall of the enclosure fence.
Medieval Montsonis conveys the splendor and elegance of the past with the comforts and services of the century.
ACCOMMODATION
We offer enjoy this medieval town, very important during the Middle Ages due to its location on the border with the Arab world, where you can stay comfortable and quiet in their own town, in apartments or rooms in half board, full board or bed and breakfast, stroll through its cobbled streets, visit the Castle Montsonis, Park St. Urban the Romanesque church which crowns the town and discover Salgar monastery at the foot of the river Segre.
MEALS AND TASTING
In a landmark located in old cellars dug into the rock, "La Botiga of Montsonis" may reserve a table for breakfasts, home cooked meals, tasting, tasting and coffee Montsec. It also offers the opportunity to purchase gifts associated with the world of castles, books, traditional pottery, wines and food from our original land.
Activities in the area
In the spotlight and receiving visitors Montsonis in the information office: "Portal Montsec" suggest the best routes to get to know the area, buy tickets to visit the castles of "Castles Lleida, a trip back in time "to visit the best wineries where you can sample wines from Costers del Segre and a series of activities that will make your stay unforgettable.
Visit the Castle Montsonís
Montsonis Castle include the magnificent façade, dominated by the tower of homage, the private chapel, the kitchen benches banks, the bakery, the prison, the cellar, the room reserved for pilgrims, the room of weapons, shields room and other rooms where exposed carpets and memories of other times.
Prices:
Particulars
Adults: 6.50 Euros
Children: 3.25 Euros (8 to 14 years inclusive)
Children 0 to 7 years: Free
Individuals without prior booking:
Saturday: 12:00 pm., 17.00., 18.00. and 19.00.
Sundays: 11:00 pm., 12.00., 13.00. and 17h.
During the week, each day, guided tour at 12 and 17h.
Equipment:
Pets allowed, Heating, Fireplace, Home linen, Wifi and VISA-Mastercard
Getting there:
By car: From Artesa de Segre 3 km by paved road to local Montsonís.
By Train: nearest stations Balaguer Tarrega (25 km).
By bus: Regular Line Alsina grill Artesa de Segre (3 km).
You may also be interested: