Return
Castle of Montsonís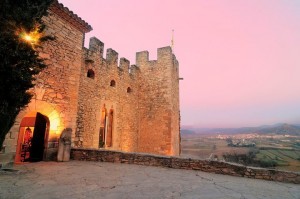 ref:922
The domain Segre Valley
Location:
Lleida - Montsonís
Contact
Print gift

The magnificent castle and the group formed by stone houses that surround it retains all the splendor and elegance of times past and takes us back centuries. Montsonís Castle is a magnificent fortress built on top of Montsonís quiet little village surrounded by fertile land and wonderful views.

Notably the whole, superb homage tower, the beautiful Gothic window on the main facade of the castle, its large stately premises: living ancestors, dining room of Lords ... and its best kept secrets : room with no door, prison, warehouse, secret passage ...

Besides being a pioneer in opening its doors to the public, Castle Montsonís is the headquarters of the "Cultural Castles of Catalonia", an organization that promotes activities in these ancient fortresses in order to safeguard this important architectural heritage consisting of castles Catalans.
GUIDED TOURS:
The Montsonís Castle was built in 1024 by order of the Count of Urgell, Ermengol II. Over the centuries, was owned by several lineages coming, parent, always a fills- Carles Montoliu, Baron of Albi, Lord Montsonís thirtieth and current owner of the Castle.
The majestic building include the magnificent exterior, chaired by the homage tower, the private chapel, the kitchen benches banks, the bakery, the prison, the cellar, the room reserved for pilgrims, the room 'weapons, shields room and other rooms which displays tapestries and memories of other times.
For curious visitors: The magnificent views from the tower of the homage, the chains prison for prisoners, escaped the room with window but no door, the secret passage to escape the cellar in case of siege.
Other activities:
- Workshops for children ( "The Medieval World", "The World of the Troubadours," "Medieval Clothing", "Medieval Kitchen")
- Events
- Presentations
- Courses and Seminars
- Meetings
- Articles
- Tenders
- Shootings
It is also possible to stay in the immediate surroundings of the castle .
Buying local products (oil, wine ...) and gifts of "La Botiga" Montsonís.
Prices:
Price includes guide service.
Individuals:
- Adults: 6,5 €
- Individuals Children: 3,25 € (8 to 14 years inclusive)
- Children from 0 to 7 years: Free
Groups:
- Up to 10 people: 39 € / group
- 10 to 20 people: 4,80 € / person
- From 21 to 30 people: 3,60 € / person
- More than 30 people: 3,00 € / person
Consult special conditions for travel agencies.
Timetables for individuals without previous reservation:
Monday to Friday: 12h and 17h.
Saturday: 12h, 17h, 18h and 19h.
Sundays: 11h, 12h, 13h and 17h.
Groups every day of the week by appointment, tel. 973 40 20 45.
Price includes guide service.
By car: From Artesa de Segre and / or Cavern paved road leads to the village of Montsonís.
By train: Nearest stations: Balaguer and Tarrega (about 24 Km).
By bus: Regular Line up Artesa de Segre (2 km) and bridges (14 km).