Return
Medieval Days: Medieval kitchen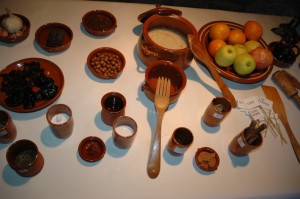 ref:37
Location
Lleida Noguera - Montsonís
Prices
from 11,0€

A heat!
Children know castles, warriors, soldiers, kings, princesses, dragons ... the stories narrated many stories and legends, but very few know how it really a castle, as they lived, what they ate and how they cooked, and washed clothing, as protection from the cold ... with a visit to the castle will be your imaginary world and be aware firsthand.
The objectives of the workshop consists of exposure habits and cooking methods of our country during the Middle Ages. During the years 500 to 1300 diet and cooking changed in Europe so important that these moves were based modern European cuisine
The main topics to be discussed are :
- Distinguish before and after the conquest of the "New World" in terms of food.
- Import and export. The use of currency and exchange products.
- Differentiation in social habits.
- Techniques of food preservation.
- Influence of the Catholic Church in the acquisition of knowledge and eating habits.
- Privacy and social practices around the table. Presentation of the dishes and menus.
DURATION OF THE WORKSHOP:
Approximately 3 h. (This may vary depending on the number of students and the needs of each group Time)
AVAILABLE DATES:
Course 2017-18
PROFILE:
Recommended for children and Upper Secondary
The workshop can be adapted for younger children (contact us)
OTHER OPTIONS:
- Guided tour of the monastery and caves Salgar
- Other activities / cultural visits
- Guided tour of the castle Montsonis
- Medieval Cooking Workshop
- Area where food services (led by the Sandwich boys)
- Focus of work
You may also be interested: