Return
Castle of Montclar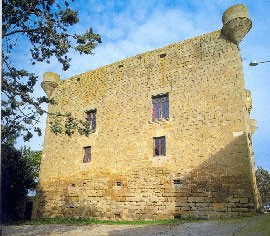 ref:920
Sentinel of Urgell region
Location:
Lleida - Montclar d'Urgell
Contact

The majestic Castle of Montclar dominates the village with the same name in the region of Urgell. The castle, built on the ruins of an ancient Roman tower, shows an elegant architecture of the Catalan Renaissance, dating back to the sixteenth and seventeenth centuries and recently restored.
The main charm of the Castle (beautiful square) is in the breadth of its rooms, the grand staircase leading up to the main floor, not to mention the great care of their appearance and exterior architecture. Visiting the castle we find the music room, the library, the dining room of the Lords, the cellar, the prison ... and infinite details that draw our attention.
GUIDED TOURS:
Declared a historic-artistic monument of national character, the castle of Montclar is first documented in the year 981. Arnau Mir de Tost, the Cabrera, the Ribelles and the Ponts are among the first lords of Montclar. Later serpropietaris the Despujol and finally the De Miguel. The castle is built of stone blocks very regular, while inside the spaciousness of its rooms. They are remarkable spaces like the cellar, the entrance where we find different armor, the large central staircase, the library, the music room and the terrace, which houses the cistern water.
For curious visitors: The original kneecaps stone placed on the wall of the prison, to guard the prisoners, and the exterior walls for the defense of the castle, large dining room, jail and dungeons and the market in the church to attend offices from the castle.
Prices:
The prices include guide service.
Individuals:
- Adults: € 6.5
- Individuals Children: 3,25 € (8 to 14 years inclusive)
- Children from 0 to 7 years: Free
Groups:
- Up to 10 people: 39 € / group
- 10 to 20 people: 4,80 € / person
- From 21 to 30 people: 3,60 € / person
- More than 30 people: 3,00 € / person
Consult special conditions for travel agencies.
It is also possible to stay in the immediate surroundings of the castle .


Guided tour for individuals: by reservation every day of the week
Groups every day of the week by appointment , tel. 973 40 20 45.
By car: From the towns of Agramunt and Artesa de Segre reach the castle by the C-14.
Train Station nearest Tàrrega (25 km).
By bus: Regular Line up Artesa de Segre (7 km) and Agramunt (9 Km).