Return
L'ERA DE CAL BARÓ - COLLFRED (La Noguera)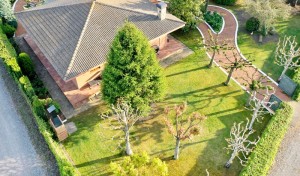 ref:7700
6-8












Type
Townhouse and Rural house
Location
Lleida Noguera - Lleida - Collfred
Prices
from 32,0€

Beautiful house with pool in nature
PRICES (6-8 PEOPLE)
Weekend: 500 €
Week (July to Septmer. Christmas): 1480 €
Week (rest of the year): 1250 €
Possibility of 2 additional beds and pets: € 15 per person and night


ACTIVITIES:
• It's essential visiting the Montsonís Castle
• Castles Route of Lleida: complete it visiting the castles of Montsonis, Florejacs, les Sitges
• Ornithological outings
• Space to whatch close wildlife (amphibians, birds...)
• Scenic routes in the area: Vilanova Meià, Alòs de Balaguer...
• Walks around Montsonís and visit the Monastery of Salgar and its caves
• Enjoy the markets and fairs of the area: Fira del Meló i Matança del Porc in Artesa de Segre, Fira del Torró in Agramunt, Fira de la Perdiu in Vilanova de Meià...
• Medieval Route in Balaguer
• Visit the Iberian remains in Antona
• Trekking to the Mu Gorge
Equipment:
AACC, Pets allowed, Barbecue, Heating, Kitchen, Fireplace, Pool, Dishwasher, Home linen, TV, Wifi and VISA-Mastercard
Detached house with garden located before arriving to the small village of Collfred, near Artesa de Segre. With private parking easily accessible next to the entrance.
Large garden area with swimming pool, barbecue, table, chairs and hammoks to relax and enjoy the good weather and nature.
From the garden, going up a couple of steps, we enter the house, of only one floor. Very luminous and with great views to the Montsec.
Integrated to the living room we find the open-plan kitchen. Equipped and delimited by an american bar to work, cook or eat. The kitchen, the dining room and the living room, form a single environment of connection and conviviality.
Next to the kitchen, there is a large table that is surrounded by the living room area, with sofas to enjoy the television and the fireplace that presides over the living room.
In front of the living room there are three bedrooms. Two double rooms with two beds and one double room where you can add an extra bed. Also one of the sofas in the living room is transformed into a double bed.
Completing the floor there is also a bathroom with bath.
You may also be interested: