Return
Castles and palaces VILADECANS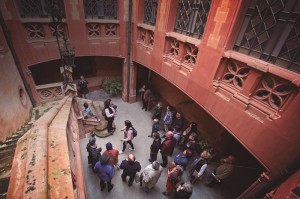 ref:7660
Location
Barcelona Baix Llobregat - Viladecans
Prices
from 44,5€

Traveling back in time to the Middle Ages discovered the secrets of the most unique buildings in the city.
Discover the heritage:
Was recently discovered archaeological site of large mammals such as mammoths , rhinos and between which have been manufactured tools of chert among 20,000 and 100,000 years.

During the reign of James I of Aragon in the thirteenth century, the town passed through the hands of several gentlemen, but it was not until 1 April 1265 when it became the definitive donation in favor of Burguès William and his descendants.

Agullana 1562 Henry sold the site and Viladecans Burguesa Tower (now also known as the Red Tower) Hugh John Fivaller Palou, Lord of the Barony of Eramprunyà.

1652 Viladecans passed to the Barons of San Vicente dels Horts, in the seventeenth century, Mr. Viladecans, Miquel Torrelles, had to Remolar in the Marines, a house and a fort with two pieces of artillery as a symbol of feudal power still dominant in the delta area west of the river Llobregat.

We offer a guided tour of the city by buildings that reveal the secrets of life in the past.

-The Tower Baron , a building built in the fourteenth century X. foundations
- Can Modolell -Town Villa, built in 1892, has a detached watchtower mid sixteenth century.
-The Tower-RedBuilt between the XII-XIII centuries was the seat of the Quadra Bourgeois, stately jurisdiction until the first third of the nineteenth century
- After a good lunch with local products.
- Visit to stop garden products with gift.
- After relaxing visit to the beaches and protected natural areas of the Llobregat delta.
includes:
- Torre Baró
- Can-Modolell
- Tower-Red
- Lunch.
- Visit to stop garden products with gift.
- Visit beaches and wetlands protected.
Recommended: wear comfortable clothes, hat and sunscreen and binoculars.
You may also be interested: