Return
Vouchers: ESCAPE ADVENTURE CASTLE - Castle Montclar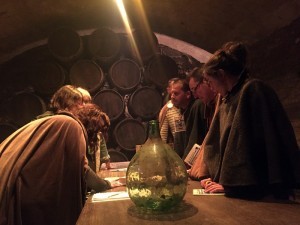 ref:7651
We open the doors to offer a new experience, exclusive and unique!
Location:
Lleida Urgell - Montclar d'Urgell
Contact
Print gift

IS A GUIDED TOUR? NO! But you are never alone!
ROOM IS AN ESCAPE? NO! It is in a Castle!
It is an RPG? NO! The setting is real!
Scary? NO! But there is intrigue!
Time is running out ... FAST!
Want to discover the best kept secrets of the Order of Montclar? Do not disappoint!
Castle Escape Adventure Escape Room is a game type but slightly different. Here, instead of cameras and speakers, we are actors, and instead of one or two rooms, have castles. Yes, castles truth. Our games are highly immersive and are designed to encourage teamwork. An activity in which you think about pulling together yourselves to finish on time. The past solving great challenges and deciphering the clues that will lead you to victory.
PRICE: 190 € for 4 people
The majestic
Castle of Montclar
dominates the village with the same name in the region of Urgell. The castle, built on the ruins of an ancient Roman tower, shows an elegant architecture of the Catalan Renaissance, dating back to the sixteenth and seventeenth centuries and recently restored.
Declared a historic-artistic monument of national character, the castle of Montclar is first documented in the year 981. Arnau Mir de Tost, the Cabrera, the Ribelles and the Ponts are among the first lords of Montclar. Later owners were Despujol and finally the De Miguel.
If you purchase a voucher please contact us and we will reserve!