Return
Castle of Les Sitges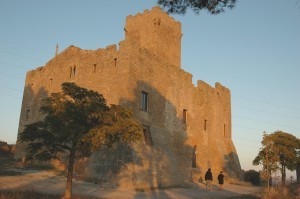 ref:7638
imposing fortress
Contact
Print gift

This small rectangular residential fortress, formerly known as castrum Ciges December, the date of the eleventh century when Arnau Mir de Tost deployed the defensive power of his master, Count of Urgell Ermengol. Thanks to its strategic location, became the protagonist in the struggle and the progress towards Christian lands of the Muslim Hispania. Although its origin dates to the eleventh century, most of the elements are preserved in the fourteenth century.
Since its origin the castle remained in the hands of the same family lineage, though under different titles. Thus, as the German brain, Josa, the Bank, the needle Pino and recently Sentmenat, Calvo de Encalada and February have possessed dominion over the place, and the barony on nearby Castle Florejacs the whose history has passed parallel to the silos for almost a thousand years. From the second third of the twentieth century, the castle passed into the hands of the Canals family, who has assumed the task of consolidating the building and adapt to new times. Today, the castle stands with the aim of becoming the core of promotion of cultural, recreational and social activities.
GUIDED TOURS:
The current building consists of a cube of stone rectangular tower with sloping walls teacher (8 meters) also rectangular, surrounded by a wall enclosing the site the same way. It is, therefore, a genuine medieval appearance. However, inside the castle shows spaces typical of an aristocratic residence and still preserves the cellar dungeon spaces and kitchen, oven and stables. The first floor is occupied by anoble room, equipped with a fireplace and large windows open to the south Renaissance with benches. On the second floor, where there was the ancient rampart, it locates an open terrace at noon, closed to the south by battlements and machicolation of the wall. Inside, we find the Romanesque door of access to the tower and climb the ladder that allows the top, where you can enjoy a magnificent view over the plains of Lleida.
Prices:
The prices include guide service.
Individuals:
- Adults: 6,5 euros
- Individuals children: 3,25 euros (8 to 14 years inclusive)
- Children from 0 to 7 years: Free
Groups:
- Up to 10 people: 65 € / group
- 10 to 20 people: 4,80 € / person
- From 21 to 30 people: 3,60 € / person
- More than 30 people: 3,00 € / person
Consult special conditions for travel agencies.

Individuals without previous reservation : Sundays: 11h, 12h and 13h
Groups every day of the week by appointment, tel. 973 40 20 45.
By car: From Guissona reaches the silos for the L-311. By train: Nearest stations Cervera (22 km) and Tárrega (33 km). By bus: Regular Line to Guissona (8 km).