Return
Ref. 7619 - La Vall de Lillet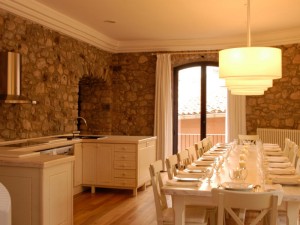 ref:7619
10-24








Type
Castle and Rural house
Location
- La Pobla de l'Illet
Prices
from 37,0€
The luxury of staying in a castle Berguedà
RATES (10 TO 24 PEOPLE)
Weekend: 1.780 €
Price 1 night: 990 €
Consult prices for longer stays.
Supplement zone Spa: 108 € night
UPCOMING ACTIVITIES
• Ski La Molina. Ski closest accommodation
• Cement Train: This is a railway line that historically joined the former Asland cement factory in Castellar de n'Hug with Guardiola de Berguedà. A trip back in time you can not lose.
• Visit the nearest surroundings: Catllaràs Sierra, Natural Park Caddy, La Molina, historic buildings and must-see spots. As well as, cycling, hiking, canyoning, climbing, skiing ...
• The tandem paragliding flight is the most spectacular and authentic ecological Berguedà have to bring you our mountains. With few previous requirements and the ability to customize it .... there is a want for everyone!
• Enjoy the magic of the Pyrenees from the air. Fly Cerdanya balloon and live a unique experience with family or couple. Thrill watching bird's eye view Pyrenees.
• Practice multitude of outdoor activities: skiing, snowboarding, skiing, night skiing, snowshoeing and more.
• Adventure Park Catllaràs Park has been created as a park Continue Life Line (LVC), which prevents the participant can fall from the tree to own a distraction when handling carabiners, making possible make simple games to a high enough adventurous. We encourage you to climb well you up!
• Experiment with a quad: quad Guided tours in small groups (maximum 6 people) to discover the natural environment of the county and the High Sierra Catllaràs. Routes varied and flexible to your liking.
• Bike rides. There are family pernsades routes for all levels.
• Hiking in the area.
Equipment:
Heating, Kitchen, Jacuzzi / Spa / Sauna, Fireplace, Dishwasher, Home linen, TV and Wifi
Rural luxury in the Valley of Lillet, a castle built in 1297, renovated and converted into a rural accommodation. The castle is a building erected on the ruins of the ancient fortress built by the dynasty of Mataplana in 1297.
The made restoration has turned it an establishment completely equipped for celebrations and stays for groups up to 24 people has 9 rooms with private bathroom and TV, a spacious kitchen-dining room with a big table for everyone living area and a spa area to relax (fees apply). Comfort is ensured by a system of radiators fed by a boiler. The living room, a key element of meeting, is equipped with a gas fireplace and a large format TV as key elements.
HUTCC-000264-85
You may also be interested: