Return
THE DISCOVERY OF THE MU GORGE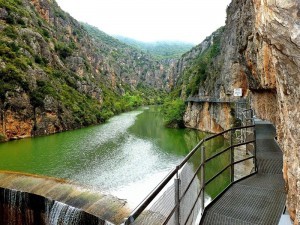 ref:7586
2-20



Location
Lleida Noguera - Montsonís
Prices
from 62,5€
Print gift
Half board stay in Montsonís, visit to the Castle of Montsonís and free route to the Mu Gorge
Stay includes:
Guided tour to the Castle of Montsonís
Stay in a double charming room in the village of Montsonís
Breakfast in "La Botiga" Montsonís
Dinner - Drinks not included in "La Botiga" Montsonís
Practical information for the route of the Mu Gorge
Price per person: 62,50 € (VAT included)
Includes:
Accommodation, Breakfast and Diner
The river runs squeezed between the foothills of the southern side of the Montsec and the north face of Sierra Carbonera. Along the route are happening the cliffs, hills and corners the way they offer spectacular views. Palomar reached the ravine begin the steep descent zigzag until a suspension bridge and shortly afterwards overcome the resumption of Central Alòs a path metal nailed to the wall. On the other hand, go back all the trouts adapted steps that allow them to ascend. A journey full of attractive and affordable at the same time.
CASTLE OF MONTSONÍS
Montsonís Castle was built in 1024 by order of the Count of Urgell, Ermengol II. Over the centuries, was owned by several lineages coming, parent, always a fills- Carles Montoliu, Baron of Albi, Lord Montsonís thirtieth and current owner of the Castle.
The majestic building include the magnificent exterior, chaired by the homage tower, the private chapel, the kitchen benches banks, the bakery, the prison, the cellar, the room reserved for pilgrims, the room 'weapons, shields room and other rooms which displays tapestries and memories of other times.
For curious visitors: The magnificent views from the tower of the homage, the chains prison for prisoners, escaped the room with window but no door, the secret passage to escape the cellar in case of siege.
You may also be interested: