Return
Historical Getaway to Montsonís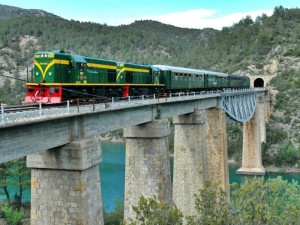 ref:7582
2-4



Location
Lleida Noguera - Montsonís
Prices
from 80,7€
Print gift
Stay in the medieval village of Montsonís with breakfast, visit to the castle and Lakes Train.
Stay includes:
Guided tour of the Castle Montsonís
Stay in a double room in the charming village of Montsonís
Breakfast in "La Botiga" Montsonís
Lakes Train Balaguer - Pobla de Segur - Balaguer
Price per person: 80,70€ (VAT included)
Includes:
Transport, Accommodation and Breakfast
We propose a nostalgic tour that lets you go back in time, experience for lovers of the railway and the pure nature. It is an unforgettable trip to the zone of Lleida to the Prepyrenees lakes: leave the Segrià, cross the Noguera and Montsec and reach the heart of Pallars Jussà.
CASTLE OF MONTSONÍS
The Castle of Montsonís was built in 1024 by order of the Comte d'Urgell, Ermengol II. Throughout the centuries, it was owned by several lineages to reach, always from parents to children, to Carles de Montoliu, Baró de l'Albi, thirty Lord of Montsonís and current owner of the Castle.
The majestic building include the magnificent exterior, chaired by the homage tower, the private chapel, the kitchen, benches banks, the bakery, the prison, the cellar, the room reserved for pilgrims, the room 'weapons, shields room and other rooms which displays tapestries and memories of other times.
For curious visitors: The magnificent views from the tower of the homage, the chains prison for prisoners, escaped the room with window but no door, the secret passage to escape, the cellar in case of siege.
You may also be interested: