Return
Come and do your "Cosinada" in Montsonís!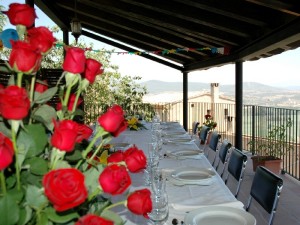 ref:7579
1-50


Location
Lleida Noguera - Montsonís
Prices
from 16,5€
Print gift
Family gatherings, cousins, with your friends, find your moment to come to know us
Proposals for all tastes:
- Guided tour to a castle from the Route "Castles of Lleida": A journey to the past: Castle of Montsonís, Montclar, Florejacs, Vicfred, sLes Sitges.
- Guided tour the the Castle of Montsonís + tasting at "La Botiga" de Montsonís
- Guided tour to the Castle of Montsonís + lunch at a local restaurant
- Guided tour to the Castle Montsonís + lunch at "La Botiga" de Montsonís + free visit to the Sanctuary of Salgar.
Prices from 23,50
€.
Includes:
Guide and Lunch
The magnificent castle and the group formed by stone houses that surround it retains all the splendor and elegance of times past and takes us back centuries. Montsonís Castle is a magnificent fortress built on top of Montsonís quiet little village surrounded by fertile land and wonderful views. Notably the whole, superb homage tower, the beautiful Gothic window on the main facade of the castle, its large stately premises: living ancestors, dining room of Lords ... and its best kept secrets : room with no door, prison, warehouse, secret passage...
Built on the mountain that governs the distance from Artesa de Segre, Montsonís is not only a hiding place of rest and serenity. On the contrary, it is an ideal meeting point to submerge themselves in the living nature of the places from Montsec, a land where the most intrepid hiker and more ruthless voyeur begin to find the meaning of his existence.
You may also be interested: