Return
Break the wine Castell del Remei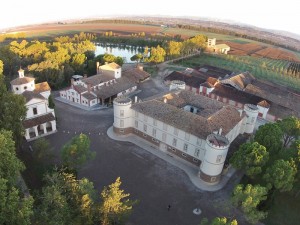 ref:7578
2-2


Location
Lleida Noguera - Montsonís
Prices
from 90,0€

Enjoy the wonderful wines of the Costers del Segre
Castell del Remei is an agricultural colony, currently retains full activity in its wine cellar, which was the first winery Catalan wines and labels that drew up to aging. It is a century-old building with ancient and modern facilities for receiving grapes, wine room, aging warehouses, bottling room and tasting room.
Amidst a landscape between vineyards, groves and lakes live with nature, plus the winery's own Castle, the Sanctuary of the Virgen del Remedio and restaurant.
The winery Thomas Cusiné is based since 2003 in a building that housed the old manor wine cooperative of El Vilosell currently has adequate facilities to produce wines, through its own methodology.
Enjoy the magic that emerges as a medieval village Montsonís essence. Breathe the tranquility that emanates from this small town where charming escape from everyday life is a pleasure.
The proposal includes:
- Visit the winery Castell del Remei, tasting of three wines.
- Visit to the Shrine of the Virgen del Remedio and environment.
- Lunch at the Restaurant Castell del Remei, with traditional Catalan cuisine cooked with local produce and wines and the winery property.
- Sleep to "la Botiga" Montsonís in a double room and breakfast charm
- Visit the winery Thomas Cusiné, tasting of three wines.
OPTIONAL: Guided tour of the castle Montsonis
Equipment:
Heating and Home linen
Castell del Remei is an agricultural colony, currently retains full activity in the cellar of fine wines of international renown.
A part of the cellar there is also the building of the Castle, the Sanctuary of the Virgen del Remedio, the traditional Catalan restaurant with local produce and other buildings within a natural environment perfectly integrated into the territory.
10 years old, from 2003 to Thomas Cusiné have reached maturity. During this time, the experience in finding the desired wines, the intensity of work, the persistence of a philosophy, the importance given to the brand, diversity and consistency in wines, work in the vineyards, the impulse dedicated to the marketing and, above all, the effort and the passion of our entire team has given good fruits, not fully achieving the objectives without difficulties- in its infancy, consolidating the project as a warehouse prestige and confidence.
Thomas Cusiné has worked from the beginning with a very open to the world, getting to introduce its wines in more than forty-five countries.
Ratings and reviews issued by the critics are of great consistency over the years, enjoying the wines of high recognition for their differentiation, personality, subtlety and friendliness, showing a character that reflects the landscape and the land where vineyards are cultivated.
You may also be interested: