Return
REF. 7577 - VILANOVA DE MEIÀ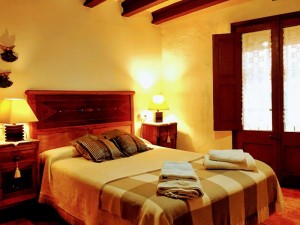 ref:7577
6-8










Location
Lleida Noguera - Vilanova de Meià
Prices
from 22,5€

PRICES (6-8 PEOPLE)
Weekend: 270 €
Additional beds: 13 € person / night
20% DISCOUNT - BOOKINGS ON-LINE
Weekend: 232 €
Week: 560 €

UPCOMING EVENTS:
• Cave Cogulló or Macià in Vilanova de Meià: In this we find cave paintings from the Bronze Age classified world heritage by UNESCO.
• Very interesting to visit La Pedrera de Meià: place where you can still find fossil remains of plants, fish, insects...
• Route of fountains. Montsec is a spectacular area, there are more than 100 fountains, the most famous Reguer Fountain, Rúbies Fountain, the sòl Tamany...
• Climbing: area with high-quality limestone walls ideal for climbing known nationally and internationally. The most popular area Roca dels Arcs, cliffs of the gorge and the New Step Fabregada Area High Rock ...
• Coma de Meià, ideal for the practice of free flight.
• Beautiful spots for hiking, there are many marked trails for all levels.
• Very interesting to visit the monuments of Coma de Meià: churches, ruins of castles and watchtowers.
• Highly recommended to visit the deserted villages in the area: The Valley of Ram, Fabregada, Coscollera...

• In the area there are prepared routes for biking or motor. All levels.
• Area of ​​special importance for lovers of speleology: Cave of the Water, Black Matasolana Cave, Ice Cave...
• For mushroom lovers, area nearby, Comiols.

• Highly recommended and traditional visit in November, Partridge Fair.
• Route of castles: Castles of Montsonis, Montclar Florejacs... (More information: www.castellsdelleida.com)
Equipment:
AACC, Pets allowed, Heating, Kitchen, Fireplace, Washing machine, Dishwasher, Home linen, TV and Terrace
Apartment located in the heart of the town of Vilanova de Meià, known for its climbing areas and all roads and paths ideal for hiking.
We entered the house through the main street and you'll find a fully equipped kitchen with refrigerator, dishwasher ..., living room and dining room with fireplace and TV, and 3 bedrooms. Two of the bedrooms are double and the other is a double room with two beds and a bunk bed. Therefore the maximum capacity of the house for 8 people.
There is also a bathroom with shower . In the dining room there is AACC.
The apartment is very comfortable and well equipped to make visits with families and small groups.
HUTL-030180
You may also be interested: