Return
Straddling VINES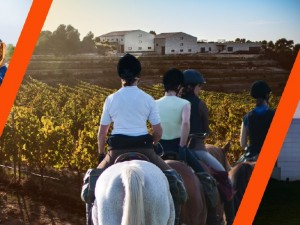 ref:7488
1-25


Location
Lleida Garrigues - L'Albagés
Prices
from 42,0€

Enjoy a unique activity among vineyards, May 14th!
Timing of the activity:
Small and Breakfast
Preparation or horse
Explanations or handling the horse
Explanation or security
or ride on horseback (30-40 min. approx)
o Visit to Bodega
Glass of wine or to dismiss
Date: May 14
Duration of the activity: about 2 hours
Price: 42 € (Wine Club members Clos Pons 33 €)
Minimum age of participants: 10 years old (accompanied by an adult)
Available Times (noted in remarks at the time of booking): - MAXIMUM TIME FOR 6 PEOPLE
* 09:30 - COMPLETE
* 10:30 - AVAILABLE - 1 angle available
* 11:30 - AVAILABLE - 4 PLACES AVAILABLE
* 12:30 - COMPLETE
Includes:
Accommodation and Breakfast
The winery Clos Pons is a haven where love of the land and the cult to the senses rises among vineyards, olive and almond trees. At the heart of Les Garrigues is the cellar, a wood and stone building that integrates with the natural environment and welcomes visitors from all over to live a unique experience.
Crossing the Albagés surrounded by organic vineyards, the winery stands imposing and cozy at the same time, inspired by the concepts of "chateau" or French "Estate" American integrated production where the grapes becomes wine in the same place growing vines. The passion and respect for the earth, care and gentleness in every phase of the production process and the expert hands of the winemaker Martí Magriñà contributed to Clos Pons baggage consolidating wine cellar as a benchmark of quality within Costers del Segre and internationally.
Any visit to the winery begins with a breakfast including local products along with oil Pons origin of this family business. Finally, taste the wines while watching the barrels maturing wine in one hand, and vineyards stretching across the plain to the other.
The origin and the end of the process are blurred and make space in the ideal location to unwind and enjoy the spectacle of nature, enjoying a wide range of experiences for the whole family.
You may also be interested: