Return
Come to Sant Sadurní and make your own Xató!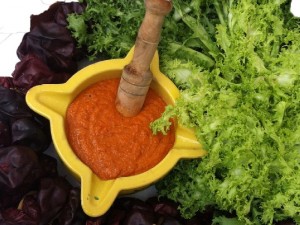 ref:7408
2-50

Location
Barcelona Alt Penedès - Sant Sadurní d'Anoia
Prices
from 35,0€
Spend a day in Sant Sadurní and enjoy Xató and Cava!
Gastronomy proposal thats includes:
- Visit to the Cava Interpretation Center (CIC) Fassina
- Make your own Xató
- Lunch with Xató as protagonist
PRICE: 35 € (VAT included)/person
.
* Interpretation Centre Cava
Located in a spirit of wine distillery was built in 1814, the current Cava Interpretation Centre offers 1,200 square meters of journey through the world of champagne, from the origins, history, process, to their culture, lifestyle and spirit of celebration. Do you know why Sant Sadurní is the capital of Cava? Come and discover it!!
You will enjoy San Sadurní in 3D, you'll know the architectural heritage in an interactive way, you will experience the phylloxera festival in large format, you'll see the vine sprouting by your eyes ...
* Make your own xató
You will be the protagonists, with the mortar in hand, you will learn how to cook the xató style Casa Nieves. After, you will be able to comparing the samples to see who came out best. This workshop is led by a cook of the house, in a office space in a kitchen. It has a duration of 20min.
* Lunch in a San Sadurní restaurnant
The stove started to boil the pot in 1929 with the great-grandmother Neus, and her daughter Teresa, mother of the present owner Pere Carbó Amat, married with Montserrat Carbó Vilanova, who innovates the kitchen of the restaurant introducing the cava. There were times were hosting a wagon, horses stables, and on the table Neus's cannelloni, veal with mushrooms and jug; Doing the typical stop. Until today four rooms daily menu, private services for groups and enterprises, take away menu, and continuing with service of accommodations with ten rooms.
Currently, the kitchen team of Fonda Neus offers traditional catalan dishes and a mixing dishes elaborates with essence of cava.
Starters on the table:
Xató casserole and white bull
Tart cod
Tosta salmon and scrambled garlic
Served in a individual tasting:
Cool salad with duck ham, beans and nuts, vinagretta cava, or
Noodles with clams and garlic and olive oil, or
Cannelloni Nieves (2 pieces)
Second:
Turkey leg at the Catalan way or
Roast beef with cava and mushrooms or
Baked fresh fish (hake/cod)
Desserts:
Mandarin sorbet with fresh fruit, or
Ice cream and chocolate cake
Bread, water minerals. Half a bottle of brut champagne per person. Coffee or machiatto.
You may also be interested: