Return
New Year's Fair in Montsonís, 1th of January, 2017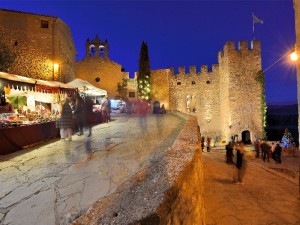 ref:7360
Location
Lleida Noguera - Montsonís
Prices
from 0,0€

Come to walk, you will find Christmas products and Medieval
For the second time in the town of Montsonís (Lleida) will celebrate the New Year's Fair on 1th of January 2017.
Walk and enjoy Montsonís, the charming medieval town and rural tranquility. The magnificent medieval group formed by the castle and the stone houses that surround it, retains all the splendor and elegance of the past times and takes us back centuries.
EVENTS PROGRAM
~ 1th January, 2017 ~
11:00 pm Opening of the exhibition
13:00 am Guided tour of the Castle of Montsonís
17:00 pm Magic show by "Shadio Magia"
18:00 pm Guided tour of the Castle of Montsonís
18:30 pm Magic show by "Shadio Magia"
19:00 pm Concert of the Choir Artesenc
20:00 pm Guided tour of the Castle of Montsonís
The Castle of Montsonís is a magnificent fortress built into the top of the quiet little village of the same name, surrounded by fertile land and wonderful views. Walking through the streets of the town of Montsonís, belonging to the province of Lleida, is to find a place with more than 1000 years of history; cobbled streets keep vestiges of a glorious past. It was fortified in 1024 by the Count of Urgell and became, during the Recapture, the center of the feudal power in the region. You will enjoy this medieval town, its castle and its walls, as well as all its secrets waiting to be counted. Highlights Overall, superb homage tower, the beautiful Gothic window in the facade, its large stately premises: living ancestors, dining room of Lords...and its best-kept secrets: room no door, jail, cellars, corridor...
The Castle of Montsonís besides being a pioneer in opening its doors to the public, is the headquarters of the "Cultural Castles of Catalonia", an organization that promotes these ancient fortresses in order to protect this important architectural heritage that forms Catalan castles.
There is the possibility of staying in the old fortifications in the shelter of the wall or any other of its fully equipped apartments for a comfortable and quiet. All rooms are designed to provide a seamless experience and to find the peace and tranquility so longed.
Be seduced by the medieval charming that permeates Montsonís...and disconnects in this little rural jewel!




More information:
Phone 973402045 - 973 40 02 65
Email info@castellsdelleida.com
You may also be interested: