Return
Romantic Break in Penedes Castle Gimenelles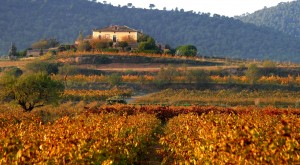 ref:7359
2-2











Type
Detached house, Masia, Room and Hotel *
Location
Tarragona Baix Penedès - L'Hostal (Sant Jaume dels Domenys)
Prices
from 74,0€
Enjoy a one night stay with dinner and breakfast with local products
The Castle Hotel is a rural hotel Gimenelles family is housed in an eighteenth century farmhouse, declared Cultural Asset of National Interest by the Generalitat of Catalonia. The farmhouse, isolated and surrounded by fields and vineyards, is located on a hill with magnificent views of the whole region to the sea as a backdrop.
The restaurant offers a cuisine with traditional base, which basically made the own garden, organic, and small producers and artisans of the region.

It has a wine and champagne exclusively in the region of Penedès wineries produced by SMEs, which are broadly representative of microclimates, soils and native Penedès varieties, as well as the creativity and effort of artisan winemakers of this region wine.

The large interior spaces of the building - the hall of the old warehouse, the Chamber of presses, the noble hall ...- make the hotel an ideal place for family gatherings, business meetings, etc. .


The proposal includes:
- Room for two people for one night.
- Amenities organic grape welcome.
- Dinner menu with three options to choose (first, second and dessert).
- Breakfast with local products (bread with tomato and sausage Area, toast and jams house, artisan cake and muffins, juice and coffee / tea).
Equipment:
Pets allowed, Heating, Garden, Fireplace, Pool, Home linen, TV, Terrace, Wifi, Celebrations Hall and VISA-Mastercard
- The hotel can serve you in Catalan, Spanish, English and French.

- The price per person includes 10% VAT.

Other services:

Services - Physiotherapy and Wellness Body: The Hotel has a collegiate physiotherapist specializing in rehabilitation treatments and therefore reequilibració neuromuscular, such as Ayurvedic massage and relaxing among others.

- Store the hotel selling price of wine and champagne cellar oil region, cosmetic grapes, olives and herbs, house, etc, as well as paintings and ceramics by local artists.

- Information Point wine tourism, culture and leisure, as well as any service needed by our clients: private transportation with driver / guide or without transfers to the airport or the train and AVE, etc. A the hotel can serve you in Catalan, Spanish, English and French.




You may also be interested: