Return
Tasting breakfast in Vinyeta Missenyora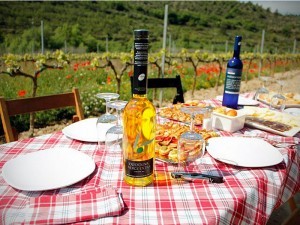 ref:7323
6-25

Type
Visit and Wine and cava
Location
Lleida Urgell - Vallbona de les Monges
Prices
from 18,0€
Print gift
Learn to interpret this land
PRICE:
18 € adults
6 € children
Approximate duration: 150 minutes
Let the time stops, relax and come to discover the environment of the River Crow valley savoring a breakfast of local products paired with wine and olive oil. The Vinyeta Missenyora is a plot of Macabeo cultivated with the criteria of organic farming. In addition to the breakfast-pairing, the visit also reveals the Vineyards Meetings Collection, a book of ancient varieties of grapes that Slow Food Terres de Lleida organisation recovers in La Noguera. The visit ends with a guided tour of the winery to learn about the process of winemaking. it's an ideal visit for exploring the River Crow Valley with the 5 senses!
Timetables:
Saturday and Sunday: 10:30 to 14 pm.
Since its inception the social axis is at the centre of the project. Alongside production activities and integration work, we realise social activities with the people we work with, mainly mentally handicapped people, especially those in disadvantaged social situations. These people are part of the cooperative and like everyone and they can become full partners if they wish.
We also have a service of occupational therapy since 2000. In this group of eight people we make activities of personal and social skills and work therapy (garden, environment maintenance, etc.).
You may also be interested: