Return
Walk through the vineyards of L'Olivera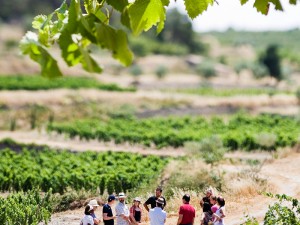 ref:7322
1-25

Type
Visit and Wine and cava
Location
Lleida Urgell - Vallbona de les Monges
Prices
from 10,0€
Print gift
Learn to interpret this land
PRICE:
10 € adults
3 € children
Approximate duration: 120 minutes
This activity allows you to discover the landscape of the Crow River Valleys through the vineyards of the olive tree. Vallbona de les Monges its a place of ridges and small, so most of the vineyards are small plots supported by dry stone walls. The walk through the vineyards of L'Olivera also includes a visit for the winery installations to know the history of the cooperative and the process of the winemaking, as well as a small tasting of some products we produce.
Timetables:
From Monday to Friday timetable to be agreed
Saturday and Sunday: 10:30 to 14h
Since its inception the social axis is at the centre of the project. Alongside production activities and integration work, we realise social activities with the people we work with, mainly mentally handicapped people, especially those in disadvantaged social situations. These people are part of the cooperative and like everyone and they can become full partners if they wish.
We also have a service of occupational therapy since 2000. In this group of eight people we make activities of personal and social skills and work therapy (garden, environment maintenance, etc.).
You may also be interested: