Return
The second stage - Vilanova i la Geltrú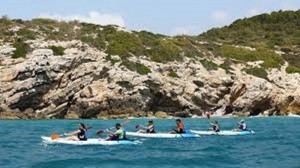 ref:7272
2-2



Location
Barcelona Garraf - Vilanova i la Geltrú
Prices
from 115,0€

Enjoy the cuisine and the sea, authentic Mediterranean diet!
The tourist offer includes:
- Dinner at a restaurant in the town
- Stay in a double room with bath in 3 * hotel - 4 * (subject to availability)
- Breakfast at the hotel
- Lunch at a restaurant in the town
- Sea Double Kayak, canoeing discipline that is increasingly practitioners, because it provides direct contact with the marine environment, the possibility of discovering the most beautiful and innaccesibles ransom of our coast and the ease of practicing it.
Possibility of assistance and cancellation insurance - 6 €/person
XATÓ OF VILANOVA I LA GELTRÚ
Chop in a mortar with the garlic cloves salt because they jump. Once crushed well, you add the almonds and hazelnuts and work it until it all forms a smooth paste. Scrape the inside of the peppers and add blanched pulp obtained mortar. Having all homogenized, put the bread crumbs with vinegar, slightly drained, and continue working on it. Once ready, add oil while stirring slowly, too slowly, to give the desired sauce consistency. In a tray, place I'escarola well drained and a bit of sauce, then stir well and serve the dishes. Accompany it with tuna, cod, anchovies and olives and let each diner, to taste, to put it a little more sauce.
Includes:
Accommodation, Breakfast and Lunch
THE XATÓ ROUTE is a great adventure we offer to you to enjoy the Alt Penedès, Baix Penedès and Garraf. A gastronomic adventure, closely linked to the Penedès wine and a unique dish in the world, the tasty xató native to our land. Come and make a tasting!
But Xató Route is an experience that goes far beyond good food and good drink.
The route includes more than 200 proposals for leisure, culture, nature, beach, wine, entertainment ... festivals, museums, hiking, tastings, competitions, xatonades popular themed trips and other activities that allow you to enjoy with your partner, family or friends.
The best restaurants of the region offer their culinary talent. And this year, to finish dressing so, Xató released the cover, a new gastronomic route for restaurants and bars, which enables you to enjoy all the creativity xató shaped lid.
Come to Calafell, El Vendrell, Sitges, Vilafranca del Penedès and Vilanova i la Geltrú to live the experience of the Xató Route!
You may also be interested: