Return
The starting point of the Xató Route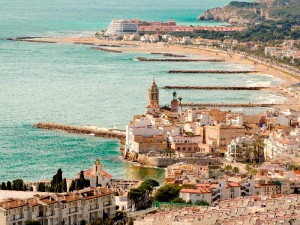 ref:7271
2-2



Location
Barcelona Garraf - Sitges
Prices
from 94,5€
Print gift
Malvasia de Sitges, Xató, fish, rice...A real unique experiences for the palate!
The tourist offer includes:
- Stay in a double room with bath in a hotel of 3 * - 4 * (subject to availability)
- Breakfast at the hotel
- Lunch in a restaurant in the town
- Visit Cau Ferrat Museum, home-studio of the artist and writer Santiago Rusiñol, one of the outstanding figures of Catalan Modernism
- Visit Casa Maricel, collection of art headquarter of the amercian collector and industrialist Charles Deering and the most significant building of the beginning of the movement Noucentista in Sitges
- Basic insurance
Possibility of assistance and cancellation insurance - 6 €/person
In a mortar by hand trenches almonds, hazelnuts, unsalted anchovies, the garlic cloves, the pulp of the peppers, chilli (optional), slices of fried bread (can be soaked with vinegar and put part vinegar), vinegar and salt, and tying it with olive oil. Wash, chop and soak the chicory. Unsalted anchovies, tuna and salted cod (the latter two cuttings) and add to the bowl with the endive. Pour in the olive sauce and finally connected well. We mix everything well so that all ingredients remain impregnated with the sauce and filling dishes there is looking like a house of making endive (château).
Includes:
Accommodation, Breakfast and Diner
THE XATÓ ROUTE is a great adventure we offer to you to enjoy the Alt Penedès, Baix Penedès and Garraf.
A gastronomic adventure, closely linked to the Penedès wine and a unique dish in the world, the tasty xató native to our land. Come and make a tasting!
But Xató route is an experience that goes far beyond good food and good drink.
The route includes more than 200 proposals for leisure, culture, nature, beach, wine, entertainment...festivals, museums, hiking, tastings, competitions, popular xatonades, themed trips and other activities that allow you to enjoy with your partner, family or friends.
The best restaurants of the region offer their culinary talent. And this year, to finish dressing so, Xató released the cover, a new gastronomic route for restaurants and bars, which enables you to enjoy all the creativity xató shaped lid.
Come to Calafell, El Vendrell, Sitges, Vilafranca del Penedès and Vilanova i la Geltrú to live the experience of the Xató Route!
You may also be interested: