Return
Discover Costers del Segre, from South, the subzone of Les Garrigues!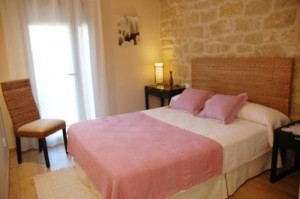 ref:7262
2-2

Location
Lleida Garrigues - El Vilosell
Prices
from 40,0€
Double room Vilosell Wine Hotel + visit to the cellar + visit tasting three wines
INCLUDES:
- Guided tour of the winery facilities: drawing room, aging room, bottling, storage room in the cellar Thomas Cusin (+ info
here
)
- 3 wines tasting
- Stay at Hotel Wine Vilosell
PRICE: 80€/couple
Vilosell Wine Hotel is located in a stone house in 1931. After being family house was carried out a restoration that has respected the original aesthetics of the building. Staying at the hotel enjoy the exclusivity of a unique building located in the Plaza de San Sebastian, the convenience of modern facilities and equipped with modern facilities, the fullness of the environment, the pleasure of enjoying a village atmosphere of freedom and contact with nature.
Guided tour for the winery installations: drawing room, aging room, bottling, storage room.
With 10 years old, from 2003, in Tomás Cusiné have reached maturity. During this time, the experience in finding the desired wine, the intensity of the work, persistence philosophy, the importance given to the brand, the diversity and consistency in wines, work in the vineyards, the run dedicated to themarketing and, above all, the effort and the passion of our entire team has given good results, achieving full, not without difficulties - the objectives set in the beginning, consolidating the project as a prestige and trust winery.
Tomás Cusiné has worked from the beginning with a very open vision to the world, managing to introduce its wines in more than forty - five countries.
Ratings and reviews issued by the critics are of great consistency over the years, enjoying the wines of high recognition for their differentiation, personality, subtlety and friendliness, showing a character that reflects the landscape and the land where vineyards are cultivated.
You may also be interested: