Return
A kind of heaven on earth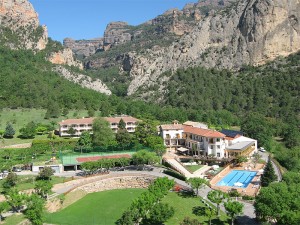 ref:7246
Location:
- Peramola (Alt Urgell - Lleida)
Contact

The Hotel is located in the countryside, in the middle of the Pyrenees mountains, where nature has created a unique landscape inviting you to relax. From the spacious and comfortable rooms, the views take in the tranquil garden with swimming pool, leisure areas for children, tennis court ... Inside, everything is ready in facilities aimed at the highest level both family and professional groups.
Facilities and general services exclusively for customers resident in the hotel:
Pool.
Tennis court.
Camp football pitch.
Boules Camp.
WIFI zone: all rooms of the hotel have WIFI internet connection.
Small office with computer, printer and Internet connection.
Presauna relaxing lounge with sauna, pressure showers and solarium UVA and relaxing.
Facilities and general services exclusively for customers resident in the hotel and / or customers RESTAURANT:
Table Tennis.
Parc child.
Spacious gardens.
Living room with fireplace.
Bar.
Restaurant.
Sales of reunions.
Parking area.
All rooms have:
Air conditioning and heating adjustable thermostat.
Four channels of music to choose from.
Telephone service.
Safe free of charge.
Outside telephone line with two telephones, one in the bedroom and another in the bathroom.
Alarm over the phone.
Hair dryer.
Television.
Whirlpool.
Breakfast in the room.
Letter from room service.
Laundry Service.
Banquets
The originality and balance the kitchen has gained the recognition of culinary expertise. A tasty cuisine precise details. Creative at the same time respecting the culinary traditions of the country.
Restaurant addresses turn into a tasty and successful meeting day: wedding receptions, birthdays, baptisms, communions ...
You may also be interested: