Return
SWIMMING BETWEEN TUNA: A unique experience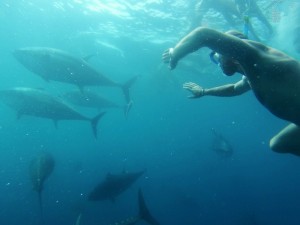 ref:7171
Location
Tarragona Baix Ebre - L'Ametlla de Mar
Prices
from 39,0€
A unique experience that will allow them to enjoy life at sea like never before
The activity consists of:
- Sail in a modern and innovative catamaran from where you can see the entire coast of the Gulf of Sant Jordi. An unforgettable ride
- Swim among tuna
- Red tuna tasting
- Travel and civil liability insurance
PRICE: from 39 € / person (depending on the time of year)
* Reduced entry children under 5-10 years
* Children under 4 free
Cancellation policy:
The activity is subject to adverse climatic and meteorological factors. Any meteorological data that forces the cancellation of the activity, with change of dates in the confirmed reservations or in the impossibility of modifying the refund will be authorized without expenses of the reservation.
Cancellations by the Customer:
Cancellation more than 48 hours before departure: no expenses
Cancellation within 48 hours before departure: 100% of expenses
You may also be interested: