Return
Vouchers Medieval Flight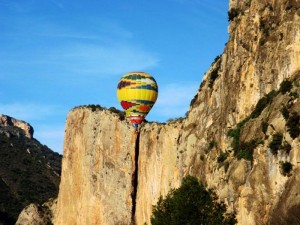 ref:7039
Location
Lleida Noguera - Montsonís
Prices
from 694,8€
Print gift
Want to make a memorable gift for someone special and you don't know what? We help you!
FIRST DAY
- 14 pm. Check in double room with whirlpool
- 15 pm. Flight with balloon
- 19 pm. OPTION 1: Guided tour of the castle with clothing including Montsonís
- 20 pm. OPTION 2: dramatized visit to the Castle of Montsonís
- 22 pm. Romantic dinner at "La Botiga" Montsonís
SECOND DAY
- 9 am. Lunch in the country "La Botiga" Montsonís
PRICE: € 694.80
- Preparation and inflation of the balloon.
The activity begins early in the morning, after the presentations and some simple instructions, you will see how to prepare the balloon. It's a magical experience which we invite you to participate if you want.
- Departure and flight. After half an hour we are ready to take off. The first time no feet on earth is possible. We want for an hour and a quarter approx. making smooth height changes controlled by the driver with the aim of playing with the wind that mark the route.
- Landing and rescue. Our 4x4 follow us communicated by radio to the ground after landing and, once collected us from the balloon, will bring us to the initial point. If a friend or relative wants to follow your balloon can go behind our shore team with their vehicle.
You may also be interested: