Return
REF. 6956 - Àger Valley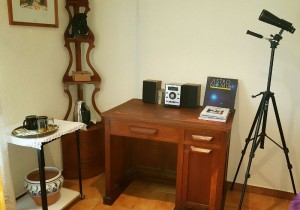 ref:6956
2-2





Location
Lleida Noguera - Os de Balaguer
Prices
from 27,5€

Come to play bells and discover the Montsec zone
PRICES (2 PEOPLE)
Minimum stay two nights (weekend or weekday): 110 €
Week: 300 €
The price includes breakfast and tourist tax
ACTIVITIES:
• 25 minutes from the Astronomical Park Montsec (COU) is unique in Europe with 3D projection dome and down
• Visit the Castle of Os de Balaguer and the Museum of Catalonia bells
• Visit the monastery of Les Avellanes included in the Cistercian Route
• Visit the castles of Lleida Castles Route: a journey to the past. Castles of Montsonis, Montclar, Florejacs and Vicfred
• Visit the interpretive center for energy and geology, making pipes, electric central and black cave of Tragó
• Visit several monuments in the area: collegiate Sant Pere of Ager, Monastery of Santa Maria de Gualter, Mur Castle and collegiate...
• Hiking and mountain bike routes

Equipment:
Pets allowed, Heating, Home linen, TV and Terrace
The Alcove is a touristic apartment, located on the second floor of a house in the village center of Os de Balaguer, has a room with double bed, living room, bathroom with shower, small balcony overlooking the village and mountains.
The apartment has no kitchen.
The apartment offers customers:
- Two bicycles
- In the summer free access to a swimming complex in a 150 meters from the house.
- Periodicals reading library books with bookcrossing system
- TV visible from the Chamber and the living room
- Hot water with a variety of teas
- Apparatus with a selection of music CDs, radio and movie selection
- Information about planets
Pets are allowed, provided with previous reservation and charged 3€ per day.

HUTL - 000142
You may also be interested: