Return
Gramuntill - Pyrenees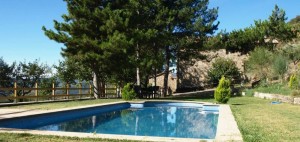 ref:6939
2-3










Type
Detached house, Masia and Rural house
Location
Lleida Pallars Jussà - La Pobla de Segur
Prices
from 27,5€
House feet Collegats Gorge
ROOM RATES
. Double room SA: € 55
Breakfast € 6.50 / person
Dinner € 16.50 / person
ACTIVITIES:
• Climbing: Collegats Gorge
• Skiing: slopes nearby Port Ainé, Skiing Spot etc.
• Nearby, Biological Station Pallars
• Nature photography: deer, wild boar, vultures, osprey, golden eagle ...
• SPORTS Aventura: canoeing, canyoning, caving ...
• Hiking and Trekking in the Natural Park of the High Pyrenees
Equipment:
Barbecue, Heating, Kitchen, Garden, Fireplace, Pool, Dishwasher, Home linen, TV and Terrace
Dated XV century farmhouse located in a privileged area, very close to La Pobla de Segur, at the foot of Collegats Gorge. This farm, with an area of ​​4ha of land, still retains the old oil mill, old windmill, the old era, the church of St. Michael and fully restored house. The house, with spectacular views, has two floors, the ground floor is for private use of the owners and the first floor is the lodging for the exclusive use of customers.
In the house you will find a fully equipped kitchen with microwave, dishwasher, fridge ... great room with fireplace and terrace, four bedrooms with double bathroom. One room can be converted into four to reach the maximum capacity of 10 people. The large outdoor area offered has a large garden with BBQ and outdoor furniture and a great environment. To know the countryside, we offer our customers the possibility to interact with the daily activities of the house went to the garden to harvest salad for lunch, folded recent events of chicken eggs, feed the rabbits, bees know closely ...
We also offer the service of breakfast, lunch and dinner for our Osteria (by reservation).
You may also be interested: