Return
REF. 6883 - DAURADA COAST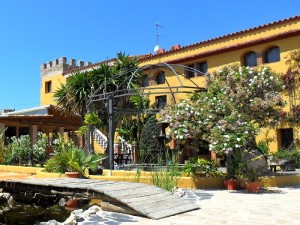 ref:6883
20-24













Type
Detached house, Masia and Rural house
Location
Tarragona - La Selva del Camp
Prices
from 25,0€
Housing near the beach
COMPLETE HOUSE PRICES (24 PEOPLE)
Weekend: 1320 €
Week: 3630 €


ACTIVITIES:

• Beaches in Tarragona, La Pineda, Cambrils and Salou (15 minutes)
• Paddle. Price: 9 €/h (previous reservation) - special rates for guests of the house (ask before the arrival)
• Visit the town of La Selva del Camp
• Natural Park in the Prades Mountains
• Port Aventura
• Modernist Route in Reus
• Horse trekking, riding lessons and pupilatges
• Quad tours through the most stunning Costa Dorada
• Route in Terra Alta and Priorat wines
• Visit medieval Montblanc
• Climbing the rocky walls in La Riba, one of the most important centers of Europe
• Visit Roman Tarragona with Tarraco train route
• The Cistercian Route (Vallbona de les Monges, Poblet and Santes Creus)

Equipment:
Pets allowed, Barbecue, Heating, Kitchen, Garden, Fireplace, Pool, Washing machine, Dishwasher, Home linen, TV, Wifi and Tennis / Paddle
The house is located just outside the old walled city around the historic Selva del Camp. It is a typical family farm of which are the first written references to the seventeenth century. Its construction has been done in stages, appraised four different stages, as can be seen through the various materials with which the house has been expanded over the years.
We arrived at the Mas through the magnificent streets of the walled Selva. Once you cross the entrance to the estate we magnificent manicured gardens and three paddle courts and opposite the large building where the house.
Walking up the exterior stairs we find a small living room with sofas, fireplace and TV that makes hall of 3 rooms. Climbing stairs inside we find a long corridor in the last five bedrooms plus room and access ladder foot access from the outside.
All rooms are equipped with TV, bathroom with shower, fridge, heating, WiFi and countryside views outside.
Distribution of rooms is as follows:
4 double rooms, 1 double (2 beds 105 cm), 2 triple, 2 quad-suite (with separate room for children)
Right next to the house we have available to customers
a large living room / kitchen with oven, microwave, refrigerator, dishwasher, washing machine, dryer
and all necessary utensils.
This room can be used for the whole group together in the same place.
The farm, very large, has a large outdoor area landscaped and well cared. Find barbecue area with tables and chairs, swimming pool with deck chairs, umbrellas and tables, area Paddle (3 courts) with own dressing tables and a fenced area for children.
Just in front of the house there is a room where it is served lunchs or dinners if the client ask for. Celebrations room is ideal for birthday parties, meetings with friends, calçotades...
It also has a small farm and organic garden, which guests can visit, and if they wish, join the daily tasks of maintenance. An a zone of own apartment.
The house can be rented by rooms or complete house.

PT-000356
You may also be interested: