Return
Visit Musical Castle Montsonís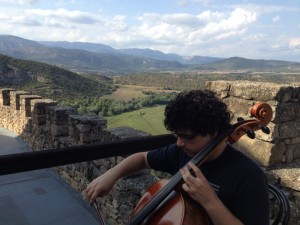 ref:6317
1-30

Location
Lleida Noguera - Montsonís
Prices
from 8,5€

Print gift
New experiences that unites the exciting history of s. XVII - XVIII music of the time.
The tour includes:
- Guided tour of the Castle MontsonÃs (click
here
)
- Support live music in different areas of the Castle
PREU: 8,50€
Concessions for groups and children under 8 years!
PROPERES DATES:
- Saturday, September 20 at 20pm.
The magnificent castle and the group formed by the stone houses that surround it retains all the splendor and elegance of the past and take us back centuries.
MontsonÃs Castle is a magnificent fortress built into the upper small MontsonÃs quiet village, surrounded by fertile land and wonderful views.
emphasized We set the superb homage tower, the beautiful Gothic window on the main façade, its spacious units Stately hall ancestors, dining room, the Gentlemen ... and its best kept secret room with no door, prison, wineries, hallway, ...
Castle MontsonÃs besides being a pioneer in opening their doors to the public, is Headquarters of the "Cultural Castles of Catalonia", an organization that promotes these ancient fortresses in order to protect this important architectural heritage castles are Catalans.
You may also be interested: