Return
Visit the castle wall and discover the universe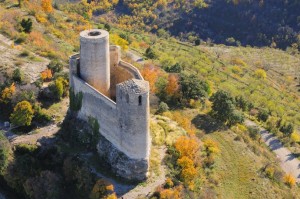 ref:6291
Type
Circuit and Night visit
Location
Lleida Pallars Jussà - Castell de Mur
Prices
from 60,3€

Live a Saturday afternoon than knowing all the wealth of the mountain!
The activity includes:
* Visit the Castell de Mur
* Entrance to night Montsec Astronomical Park and Observation Centre of the Universe.
* Stay in double room
* Breakfast
PRICE: € 60.25 / person
If you want to be complemented with a good dinner !! Just have to say !!
The
castle wall
is and
mponent fortified strategically located on a summit dominating the Tremp basin and the Terradets reservoir from which you can enjoy the wonderful views of the landscape and the beauty that surrounds it.
Castle Wall triangular with two beautiful towers, one of them the tribute, along with its courtyard, the sheds that housed the soldiers and horses and the rest of the rooms were, constitute a prototype feudal castle, which suggests a set shaped like a boat. The town center also keeps inside, besides the Castle, and the Collegiate Church of Santa Maria de Mur, both Romanesque.
You may also be interested: