Return
BIRD PHOTOGRAPHY WITH COMPANY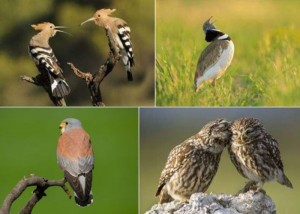 ref:6097
4-6





Location
Lleida Noguera - Montsonís
Prices
from 584,9€

Next to a good photographer there is always a great accompanying
It's true that bird photography is a specialized activity that requires a lot of patience and tranquility, it isn't sufficient reason can not be done together with the pair. We offer a range of very special and innovative; a stay of three days and two nights, with all meals included, with two protagonists: the photographer and the companion. This proposal offers two itineraries tailored to each request; one fully geared to specialized photography of birds, and the other a deep aproximament entire area to discover the hand of castles, wines and traditions. Enjoy walking, medieval towns, fine dining, wineries and wine tasting ... a true multi-sensory experience!
PROTAGONIST 1: Photographer
What we seek are satisfied customers who have become friends since the first day, years of experience developing this activity, photographers around the world to visit us year after year to capture the best images of sensitive species and difficult to photograph in the wild. Two days of intensive photo from "hides" hides specially designed and installed to enjoy the best opportunities and light to photograph the birds just a few meters away. All surrounded by an intimate environment and meals, accommodation and impeccable management.
Not easy, but to get your happiness working very hard, we know that stay are wrong. Our job is to try and maximize entertainment these days so they can get the photos you are looking for. We understand the need and importance of innovation and constantly renew ourselves, our personalized attention, so your experience will never be the same in the future or any other person.
However, we also know that after an exhausting day of photography there is nothing better than a good meal to relax and to share the experiences of this stay. A time to return to feet on the ground before going to rest and dream of tomorrow's discoveries. Do not worry, they are in good hands.
Enjoy two days of intense photography of birds and a third, which performs the same activities that accompany it.
* Example of a day in a "hide" (depending on the type of bird and photographing the season):
Plains birds – in April, May and June the weather usually gets quite warm around midday, and the light is intense. Normally you'll be in the hide for the crack of dawn, spend a few hours until approximately 10 am, and then leave the hide for some free time (scenery, plants, butterflies, lunch, siesta – whatever you feel like doing). Then you'll return to the same or another plains hide around 5pm and stay there until the light and more photo opportunities fade.
Bonelli's Eagle – Normally the eagles visit the site in the morning, although a dawn hide entrance is not necessary. Here a 9 am entrance is usually sufficient, and you may well be ready to leave the hide by 2 pm. If you have any time left you can try the nearby Pool Hide.
Goshawk Hide – A pre-dawn entrance is best, as Goshawks are often at the site at the crack of dawn! But there's more… Golden Eagles, Buzzards, Marsh Harriers and Red Kites may visit the site throughout the morning and early afternoon, so make yourself comfortable!
Lammergeier – You'll be accompanied to the hide after dawn, and you'll spend the remainder of the day here. Once the food is delivered you will normally have a very busy time with Griffon Vultures, Lammergeiers and often one or two Black Vultures too.
PROTAGONIST 2: Companion
First day
Arrival and reception in the medieval village where Montsonís be accommodated in double rooms with bathroom. Montsonís medieval Virtual tour
Finally made hungry by lunch beginning of a scenic route that will allow us to explore the valley of the Segre river where people enjoy a character such as Baldomar, Vernet, Rubio, or Alòs Cavern, with the remains of their castles although the crown.
Lunch in a traditional restaurant within the scenic route proposed (confirmed at time of booking)
After the dinner, finish the route we will take Montsonís
Guided Castle Montsonís headquarters Castells Foundation Medieval Catalonia and cultural center of the region.
Before dinner, visit the medieval village of Montsonís free, which lost stone streets that transported several centuries back.
Dinner in the old cellars of a landmark "La Botiga" de Montsonís, or enjoy home cooking and tasting seasonal produce. Some of our specialties include spinach cannelloni (Grandma's old recipe), salad with the best garden produce, baked poussin with apples and plums, homemade meatballs with tomato sauce and onion, chop the Tupi baked ....
Segon day
Breakfast at "La Botiga" of Montonís
Visit some wineries in the area. Magnificent facilities where we can enjoy the tasting of three wines Costers del Segre
Lunch in a restaurant feel that way at the time of the route (confirmed at time of booking)
Free access to the caves and Sanctuary troglodytic Salgar an idyllic space where time seems to take a break.
Dinner in "La Botiga" de Montonís
Third Day
Breakfast at "La Botiga" of Montonís
Then visit to the mound Seró Broadcaster's a unique place with unique discoveries in the world of our ancestors from the megalithic era.
After the visit, the shift Florejacs medieval village in the heart of The Segarra
Visit the Castle Florejacs and locked enclosure of the town.
Lunch in a restaurant in the area.
Free access to the town Montfalcó one of the few examples of people who have almost entirely preserved medieval wall that surrounded and protected from enemies.
After the visit we will terminate the activity.
Includes:
Guide, Accommodation, Breakfast, Lunch and Diner
* For Photographers
- Lenses Recommended for the best catches recommend lenses between 300mm and 500mm or 600mm focal converters.
- Species that can be photographed (by season):
• Bonelli's Eagle Hieraaetus fasciatus
• Golden Eagle Aquila chrysaetos
• Goshawk Accipiter gentilis
• Lammergeier Gypaetus barbatus
• Griffon Vulture Gyps fulvus
• Black Vulture Aegypius monachus
• Egyptian Vulture Neophron percnopterus
• Little Bustard Tetrax tetrax
• Lesser Kestrel Falco naumanni
• Montagu's Harrier Circus pygargus
• Roller Coracius garrulus
• Bee-eater Merops apiaster
• Little Owl Athene noctua
• Red Kite Milvus milvus
• Buzzard Buteo buteo
• Hoopoe Upupa epops
• Hobby Falco subbuteo
• Stone Curlew Burrhinus oedicnemus
• Passerines – more than 30 species so far, drinking and bathing in front of our Pool Hide.
- Distances to photograph, depending on the type of bird the "hide" these distances is about birds:
• Bonelli's Eagle – 10 to 25 metres.
• Golden Eagle/Goshawk – 12 to 25 metres.
• Lammergeier – 15 to 60 metres.
• Pool Hide – 2 to 8 metres.
• Lesser Kestrel – 8 to 30 metres.
• Little Bustard – 8 to 40 metres.
• Hoopoe – 5 to 10 metres.
You may also be interested: