Return
Vinseum Menu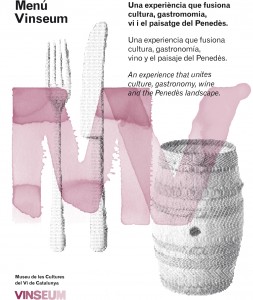 ref:5834
1-40

Location
Barcelona Alt Penedès - Vilafranca del Penedès
Prices
from 40,0€
Print gift
An experience that unites culture, gastronomy, wine and landscapes from the Penedès región.
An experience that unites culture, gastronomy, wine and landscapes from the Penedès región.
This new tourist product aims to be a proposal to allow the visitor to know the world of wine, food and heritage of the Penedès through a "passport" exclusively published in three languages (Catalan, Spanish and English) that, in addition to have all the information needed to enjoy the experience, will also become the travel book for all who want to live a "menu Vinseum."
What is the VINSEUM Menu?
A unique offer that includes:
• The visit of VINSEUM Museum of Wine Cultures of Catalonia,
• A meal (lunch or dinner) in one of the following three restaurants: El Cigró d'Or, Cal Ton or El Racó de la Calma. The meal will consist of an aperitif, a starter, a main course, dessert, water, bread and coffee. Wine is included.
• Discounts to visit the Honorary Cellars of VINSEUM (Bodegues Pinord, Caves Bolet, Caves Nadal, Eudald Massana, Grimau de Pujades, Mascaró, Mas Bertran, Mas Rodó, Oriol Rossell, Pere Ventura, Torres, Vallformosa i Vilarnau)
How does it work?
• When arriving at VINSEUM, you will show your numbered ticket.
• Choose a restaurant and decide when to go. You will also have to show your numbered ticket at the restaurant.
• Book the visit to the cellar and you will obtain a 50% discount or a 2 x 1on the price of the visit (you have 14 cellars to choose from). When you arrive, you will have to show your VINSEUM passport where it will be stamped.
• We suggest you notify the museum, the chosen restaurant and the cellars prior to your visit.
• The activities may be done in any order.
• The VINSEUM Menu is valid for 6 months from the day of purchase.
What does the VINSEUM Menu contain?
• A passport with all the necessary information to arrive at the museum, and the participating restaurants and cellars. This passport will be the travel journal of your VINSEUM Menu experience.
• A map of the area with the location of the museum, cellars and restaurants.
• A numbered ticket to validate during your visit.
• A "ni-gota" (A dripless wine pourer).
You may also be interested: