Return
La Botiga - Hab. Standard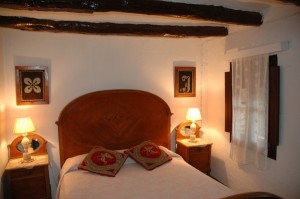 ref:5426
2-4

Prices
from 30,0€

Charming rooms
If you feel at home, surely one of the rooms "Alexander should" get comfortable and feel as comfortable as if you were there.
These rooms are facing with views of the valley and the magnificent medieval castle that dominates the Montsonís.
To enjoy a warm and quiet, offers the opportunity to enjoy home cooking and seasonal products as well as an information and reservations for those who wish to learn a multitude of activities and the area.
• Equipped with bed linen and towels and central heating.
• Open all year
By car: From Artesa de Segre 3 km by paved road to local Montsonís. By Train: nearest stations Balaguer Tarrega (25 km). By bus: Regular Line Alsina grill Artesa de Segre (3 km).
You may also be interested: