Return
GOLFES CAL MARROSO - Montsonís Medieval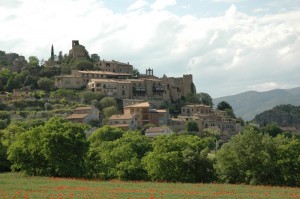 ref:5362
4-5






Type
Apartment and Townhouse
Location
Lleida Noguera - Lleida - Montsonis
Prices
from 20,5€

A nest in the heights
PRICES (4 PEOPLE)
Weekend: 165,50 €
Stay 1 night: 95 €
Week HS: 475 €
Week LS: 390 €
SH: Aôut et reste de l'année
SB: Mai, juin, juillet et septembre
Possibility of 4 additional beds: 13 € per person et night


ACTIVITIES:
• It's essential visiting the Montsonís Castle
• Castles Route of Lleida: complete it visiting the castles of Montclar, Pallargues, Florejacs, Vicfred, Arbeca and Mur
• Ornithological outings
• Space to whatch close wildlife (amphibians, birds...)
• Scenic routes in the area: Vilanova Meià, Alòs de Balaguer...
• Walks around Montsonís and visit the Monastery of Salgar and its caves
• Enjoy the markets and fairs of the area: Fira del Meló i Matança del Porc in Artesa de Segre, Fira del Torró in Agramunt, Fira de la Perdiu in Vilanova de Meià...
• Medieval Route in Balaguer
• Visit the Iberian remains in Antona
• Trekking to the Mu Gorge
Equipment:
Pets allowed, Kitchen, Home linen, TV, Wifi and VISA-Mastercard
Ideal for families, the Cal Marroso Attic is located in the heart of Montsonís medieval village, in the Pre-Pyrenees area of Lleida under the Montsec massif, in the region of La Noguera.
The property is located 150 meters from the Castle of Montsonís and it is ideal for rest. It offers optimal conditions for a peaceful time, rural tourism and to know the area. The apartment is distributed on one floor, spacious and bright. The kitchen and living room are equipped with all the details, there are also two double rooms with private bathroom in each.
• It is equipped with sheets and towels, microwave, TV and all necessary kitchenware
• Pets allowed
• Open all year
GETTING THERE:
By car: from Artesa de Segre 3 km paved road until Montsonís
By train: nearest stations are in Balaguer and Tàrrega (25 km)
By bus: regular Alsina Graells line Artesa de Segre (3 km)
HUTL 000169
You may also be interested: