Return
Discover Montsec. Excursion to Mont-Rebei.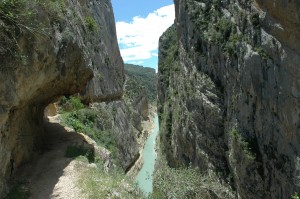 ref:5115
1-25

Location
Lleida Noguera - Àger
Prices
from 18,0€

Unusual walks in touch with nature
In the range of Montsec pre-Lleida Pyrenees by natural border between Catalonia and Aragon, Walnut Ribagorçana created over time one of the most privileged and wild country.
Montreal rebei, pure spectacle, is the last virgin gorge in Catalonia.
We invite you to enjoy your majesty, we will be surrounded by 500m high cliffs while walking to a striking way excavated allowing us to discover it safely, learn aspects of their historical and naturalistic, raptors, ladies the gorge, we fly over during the walk ...
Montreal rebei a whim of nature, do not hesitate, you know!
Consult to 973402045
Route: route enters rebei Montreal for its southern slope, the most impressive, with spectacular views that more than offset the hike. To initiate the Pertusa near the village of Corçà, cross the canyon discovering its entirety and interpret their secrets, until the Masieta. Finally the walk retraces its path back, relax, the same way.
Distance: 14 km + 600m. 7 hours
Accumulated ascent: +240 m
Time: 4.30 pm. Interpretation and breaks included.
Sure, interpretation, guidance and taxes included.
Price for minimum group of 15 people. Consult smaller groups
You may also be interested: