Return
Room charm Pyrenees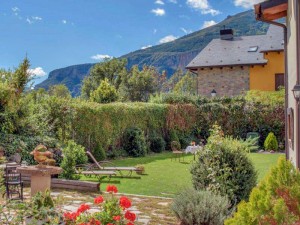 ref:5104
Location
Huesca Ribagorça - Castejón de Sos
Prices
from 26,0€

The house was the Benasque Valley, transformed into a charming hotel.
Is the result of a series of reforms that have turned an old house on the mountain Benasque Valley, a charming hotel. Every detail has been designed to make the customer feel at home. Surrounded by a garden and terrace. The hotel features parking garage, ski storage room with a fireplace where guests can enjoy breakfast. Bar service for clients.
Internet access. rooms have been decorated in a warm and friendly atmosphere, 2 rooms for the disabled. Castejón is in the village of Sos (Huesca), in a small square, away from the road. Very quiet place to relax and enjoy nature. Ésera in the river and the road Trans 260, is the central point Benasc Valley. Lets enjoy this hidden valley at the foot of the peak Aneto and visit also other valleys of the Pyrenees: Valle de Ordesa, Pineta Valley, Valley of Saas Fee, Wheel Isàvena, the spa Vilas Turbón ...
Open all year.
Castejón Sos is located in the northeast of the province of Huesca, belongs to the region and the Commonwealth of Ribagorça the High beings. A 904 m. It is the center of Benasque Valley, where the highest concentration of Pyrenees mountains exceeding 3,000 m: Maladeta-Aneto Llardana-Posets. Pointer, Cotiella, Turbón. Their climate is not extreme in winter is protected from the north winds, keeping a mild and pleasant summer temperatures.
Sos is Castejón Regional Services Center: Health Center serving on duty 24 hours a day, Pharmacy, Sports Hall, Cultural Center, Pool, Tennis, picnic, barbecue, climbing wall, playground, banks, post office, hairdressers, shops, cafes ... For its location is the main communications hub of the area, being an ideal starting point to discover other areas such as the Pyrenees: the valleys of Ordesa, Pineta, Chistau, Wheel Isàvena, Aran Valley, Boi-Taüll Aigüestortes ...
Although it is a small mountain village, ideal for relaxing, adventure sports are also present in Castejón Sos. The gliding is the sport that attracts visitors for its spectacular weather conditions for this sport, or know Benasque Valley from the air, flying ultralights and light aircraft. Also, we can go rafting, canyoning, climbing and any sport related nature.
Located 20 km from the ski resort of Cerler and 25 ski station plans Hospital, Sos Castejón make a great place to come in the winter.
You may also be interested: