Return
School activity: Guided theatrical Castle Balsareny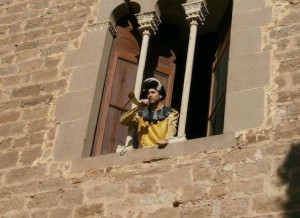 ref:4786
35-50

Location
Barcelona Bages - Balsareny
Prices
from 8,0€

Magnificent building in the heart of Bages
Balsareny Castle is located on a hill above the town of Balsareny. It is a fortress dating from 951 and is a good example of Catalan civil Gothic fortress. The current building, very well preserved, was constructed during the second half of the fourteenth century, during the reign of Peter III of Aragon, and was restored during the last years of the nineteenth century.
The experimentation and imagination are dramatized visits Castle Balsareny tools with which convey the emotions and interests of children. Using figures from different groups medieval characters immerse themselves in a journey of discovery where you learn how to live in a medieval castle in the fourteenth century. The route will lead students in all rooms of the building: the Romanesque chapel (XII century) of the Virgen del Castillo, the courtyard, the cellar, the stables and the first floor, the living weapons, noble bedrooms, the kitchen and the dining room through the eyes and stories of its inhabitants.
Check prices for groups of less than 35 students.
You may also be interested: