Return
Route discovering the Pyrenees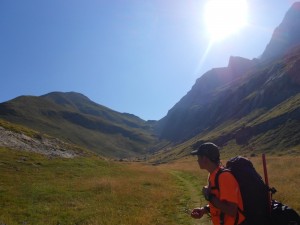 ref:4700
2-10






Hiking and guided ascents in the Pyrenees
Location:
Lleida Vall d'Aran - Pirineu
Contact

Come and discover the Pyrenees with our expert guides.

Hiking, climbing tours, walking tours of the most beautiful places and amazing that our Pyrenees.




We offer several ways to enjoy the mountain and safely:




Mountain Crossings

Several days of hiking mountain perfect for a holiday in nature, walking and enjoying of this magnific scenery.




Ascents

Do you wish to reach a peak? Go ahead! We'll search a climb according to your expectations, physical and technical possibilities. Come make your first 3000 ascend!




Hiking

Excursions to acording to your needs throughout the country to enjoy with friends or the whole family from the smallest to largest.

Call now and request more information!
Includes:
Guide, Accommodation, Breakfast, Lunch, Diner and Pique-nique
My first 3000:
august 18-19 - Taillon (2 dies).
august 28-29 - Besiberris (2 dies).
September 2 - Mulleres (1 day).
Upcoming tours:
Bridge September 11: Aran Valley or Aigüestortes National Park. (4 days)
September 15-16 - Vallibierna (1 day).
September 22-23 - Mulleres (2 Dies).
Bridge October 12: Aiguestortes National Park. (3 dies)
You may also be interested: