Return
Discover the villa of bells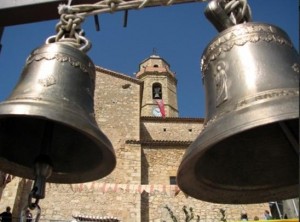 ref:4682
1-20


Getting into popular culture!
Location:
Lleida Noguera - Òs de Balaguer
Contact
Print gift

This activity allows the possibility of combining both worlds full of tradition: the bells and castles.
At the top of a hill overlooking the town, stands the Castle "Malignum Castrum" Os . Of Arab origin was strongly fortified in 1035 to defend the border against al-Larida Carolingians. Was part of a defensive line consisting of numerous castles among which were: Ager, Albesa, Almenar, Alguerri, Alguaire Farfanya of Castellón, Corbins, Lorenzo, and Santa himself Linya Os de Balaguer. His tour will take us in time and understand the importance of this impregnable castle.
This experience combined with a visit to the museum of bells . In ancient times and until recently, the bells were the most effective communication system in villages. Each event had a particular twist that the villagers could identify. With the new way of life, all these traditions are being lost. Visiting the museum intends to keep this flame lit, giving details of this tradition.
To complete the activity will add a lunch at the monastery of the Hazelnuts.
The activity includes:
Guided tour of the castle and the museum of bells.
Lunch at the monastery of the Hazelnuts.
OPTIONAL:
Guided tour of the monastery of the Hazelnuts.
Includes:
Guide and Lunch
ACTIVITIES A LA CARTE
We can quote, without obligation, to measure the activity (date, time, ...).
You may also be interested: