Return
4x4 guided tour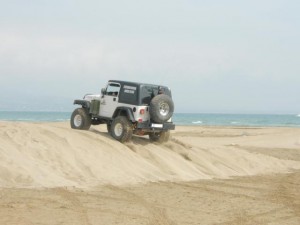 ref:4657
4-4

Discover how there are still people living in the Delta as before.
Location:
Tarragona Montsià - Deltebre
Contact

Excursion SUV to enjoy remote sites, which are only known to the people of the territory. We arrive at the only place where we can participate in this seafood and ancient art.
Let ourselves be seduced by the grandeur of the surroundings and its captivating flamenco. Observe the constant changes in the Delta, a region in motion.
We see a large amount of gear still in use: dredge, Rallo, bentrols, prawns and discover the tools that were used for seafood, now banned.
Know the culture of our marsh: mussels and oysters.
Also discover how there are still people living in the Delta as before, collecting the fruits of the garden and the animals that breed. I get it.
Visit the Old Pond Canal from a strategic perspective, and do a little tour of the works that have been made to control the water, something very relevant to the Delta.
Living in the Delta and see every day as the sun comes over our majestic river Ebro Flemish Listen with your eyes closed, as if they could play. Browse along the fish that escape from the water and much more. Feel part of this universe.
Prices include all-terrain vehicle, guide and liability insurance.
It may include a picnic type lunch or local restaurants: budget request.
You may also be interested: