Return
"La Botiga" - Superior Room with Jacuzzi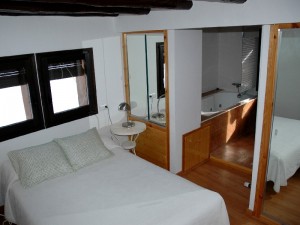 ref:4444
2-2





Location
Lleida Noguera - Montsonís
Prices
from 40,7€

Charming rooms in Medieval Montsonís
PRICES:
1 night bed and breakfast: 45,55€ / person / night
1 night half board: 66,55€ / person / night


ACTIVITIES:
• Essential to visit the castle and the town (www.montsonis.org). Recommended Theatrical Visits in the Castle of Montsonís
• Lleid Castles Route: complete route of the castles visiting the castles of Florejacs, les Sitges ...
• Ornithological trips
• Area of wildlife nearby (amphibians, birds...)
• Scenic routes in the area: Vilanova Meià, Alos de Balaguer...
• Walks around Montsonís and visit the Monastery of Salgar and its caves
• Enjoy markets and fairs in the area: Melon Fair in Artesa de Segre, Nougat Fair in Agramunt, Partridge Fair in Vilanova de Meià...
• Medieval Route in Balaguer
• Visit the Iberian remains in Antona
• Trekking to the Mu Gorge
Equipment:
Heating, Jacuzzi / Spa / Sauna, Home linen, Wifi and VISA-Mastercard
If you want to feel like home, surely one of the rooms of Montsonis Medieval get comfortable and feel so comfortable as if you were there.
In order to enjoy a warm and quiet, it offers the opportunity to enjoy home cooking and seasonal products as well as information and reservations for those who wish to perform a multitude of activities and know the area. All in "La Botiga" the Montsonis (www.botigamontsonis.com)
Suite rooms equipped with sheets, towels and central heating.
Open all year
PL-000106
CANCELLATION POLICY
Cancellation of the reservation will result in the following amounts being withheld:
€ 50 for management fees 24 hours after confirmation.
30% of the total reservation when the cancellation is more than 30 days before the date of entry.
100% of the total reservation when the cancellation is made less than 30 days from the date of entry.
The above penalties do not apply when the cancellation occurs due to force majeure, duly proven.
You may also be interested: