Return
Guided tour of the Castle Balsareny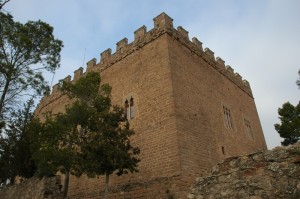 ref:3432
1-50

Location
Barcelona Bages - Balsareny
Prices
from 7,0€

Print gift
Magnificent building in the heart of Bages
Balsareny Castle is located on a hill above the town of Balsareny. It is a fortress dating from 951 and is a good example of Catalan civil Gothic fortress. The current building, very well preserved, was constructed during the second half of the fourteenth century, during the reign of Peter III of Aragon, and was restored during the last years of the nineteenth century.
The view over the river Llobregat, the town of Balsareny, Montserrat and the Pyrenees, is excellent • lens. Castle throughout its history has been owned by several families until today. It was inhabited until 1976. It is one of the few castles regular and uniform central Catalonia. Pentagonal shaped, almost rectangular. On the ground floor there is a large tinell that retains all the atmosphere of the Gothic era. A stone staircase one section to the first floor where there is a gallery of semicircular arches and chambers. At the top are the battlements with loopholes characteristic of the last medieval centuries. The building was declared a National Cultural Heritage in 1949.
Next to the castle you can visit the Romanesque chapel of Our Lady of the Castle, which dates from the twelfth century. At the foot of the castle, the river Llobregat, is the birthplace of the sluice channel that provides water to the city of Manresa. On Sunday, the Feast of Carriers horse racing are the path and end up playing the same castle.
For curious visitors: the cistern in the basement there is the mouth in the center of the courtyard and collects rainwater through two stone pillars that bored straight down the roof.
Schedule - Individuals - Groups:
Every day of the week by reservation.
The first Saturday of each month are dramatized visits at 17h. (please book in advance).
Prices include guide service.
You may also be interested: