Return
REF. 3428 - Serra d'Almenara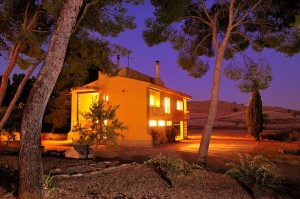 ref:3428
22-30















Type
Detached house and Masia
Location
Lleida Urgell - Almenara Alta
Prices
from 22,0€

Controlling the plain of Urgell
PRICES (22 TO 30 PEOPLE)
Weekend: 29 € person/night
Week: 22 € person/night
Night added: 22 € person/night
Possibility of 6 additional beds (maximum capacity of 30 people): 20 € per person and night


ACTIVITIES:
• Visit the Almenara Tower, Moorish tower 11 meters high
• Bike tours through Urgell
• Castles Route of Lleida: Castles of Montclar, Montsonís, Pallargues, Florejacs, Vicfred, Arbeca
• Museums and collections of Urgell: Iberian village "Mill Lavender" in Tornabous, Guinovart in Agramunt...
• Cistercian Route monasteries of Vallbona de les Monges, Poblet and Santes Creus
• Hiking Area
• Visit the peoples of Urgell: Guimerà, Verdú, Almenara Alta...
• Enjoy the Theatre Festival in Tàrrega
• Enjoy the fairs in the area: Nougat and Chocolate Fair in Agramunt, Melon Fair in Artesa de Segre, Almond Faire in Vilagrassa...
• Trekking to the Mu Gorge
Equipment:
Pets allowed, Barbecue, Heating, Kitchen, Garden, Fireplace, Pool, Washing machine, Dishwasher, Home linen, Games room, TV, Terrace, Wifi and Celebrations Hall
Farm which is located in the county of region of Urgell. Within the estate are also crops, populated by a large pine that delimits two buildings surrounded by a nice garden. It also has a fenced pool. Between the two houses offer a total of 22 places, with the possibility of extending to a maximum of 30 places by adding up to eight beds.
The smaller house has two floors. On the ground floor, there is a service room with washing machine, a garage and a bathroom. On the first floor, there is a living room with fireplace and terrace, four double bedrooms (2 twin and two double) and two bathrooms.
The bigger house also has two floors. On the ground floor, there is a kitchen with fireplace, three bedrooms with private bathrooms (two twin and one double). On the first floor, there is a large living room, kitchen with fireplace and four double rooms with bath (3 twin and one double).
The entire property is surrounded by an elegant outdoor area where there is a space enclosed pool with a treatment of salt, a play area for children (swings...) and there are also the old bedroom, as currently enabled a games room, which communicates directly with the pool area. The room has all the necessary equipment as well as ping-pong, table football and other traditional games. This same space, in cases of demanding, is used as a meeting enabled companies and organizations, family celebrations and banquets.
It is possible to rent the two houses separately:
Accommodation Small: http://www.castellsdelleida.com/detail/1161/
Accommodation is spacious: http://www.castellsdelleida.com/detail/1162/
HUTL - 000765 / HUTL - 000753
You may also be interested: